N. Korea back to talk as Rice meets Chinese
(Agencies)
Updated: 2005-07-10 10:16
North Korea said yesterday it will abandon its yearlong boycott of nuclear disarmament talks and resume negotiations soon, a breakthrough reached just as US Secretary of State Condoleezza Rice began a mission in Asia.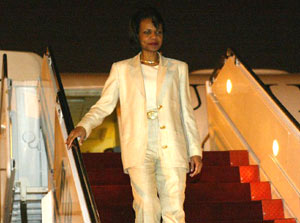 US Secretary of State Condoleezza Rice arrived in Beijing Saturday evening for her second China visit since she took office. [Xinhua]


North Korea's vice foreign minister, Kim Gye-gwan, informed U.S. Assistant Secretary of State Christopher Hill that it is prepared to return to the six-party talks during the week of July 25.

Word of the decision came as Rice arrived in Beijing, the first stop on a four-country Asian tour devoted primarily to the North Korea situation. For weeks, the U.S. has urged North Korea to get back to the bargaining table and take the discussions seriously.

A Bush administration official who spoke with reporters accompanying Rice said Kim told Hill that North Korea's purpose in the talks will be denuclearization and that its negotiators will be intent on making progress.

North Korea's official Central News Agency confirmed the July 25 time frame. "The U.S. side clarified its official stand to recognize (North Korea) as a sovereign state, not to invade it and hold bilateral talks within the framework of the six-party talks," KCNA reported.

In Washington, White House spokeswoman Dana Perino said, "We are pleased that North Korea is coming back to the talks with a commitment to a denuclearized peninsula. We look forward to making progress in the six-party talks toward that goal."

The other countries involved are China, Japan, Russia and South Korea. A spokesman for Russia's foreign ministry said the development was welcome news. Three rounds of largely fruitless talks took place in 2003 and 2004; there have been discussions over the past year.

North Korea blamed "hostile policies" of the United States, including statements by U.S. officials that they considered inflammatory and disrespectful. Rice, for example, branded North Korea an "outpost of tyranny" during her confirmation hearings in January to be the chief U.S. diplomat. Bush and Rice have dropped such rhetoric lately, in an apparent bid to encourage North Korea to be flexible.

North Korea was a priority for Rice heading into meetings Sunday with Chinese President Hu Jintao, Premier Wen Jiabao and Foreign Minister Li Zhaoxing.

On the trip from Washington, Rice did not use any pejorative language about North Korea when talking with reporters. She stressed that the U.S. respected North Korea's sovereignty and had no plans to attack the country.

In recent weeks, there have been signs that North Korea was interested in ending the boycott. Five weeks ago, North Korean diplomats at the United Nations expressed such a desire during a meeting with two U.S. State Department officials.

North Korean leader Kim Jong-Il also held out the possibility of a resumption during talks last month with South Korean Unification Minister Chung Dong-young.

The U.S. recently announced a 50,000-ton food donation for North Korea. The timing of the announcement was seen as a gesture toward North Korea. The Bush administration said it was a humanitarian donation and denied that it was related to nuclear diplomacy.

A range of possible dates for resuming the talks have been discussed. During the dinner Saturday night at a Chinese Foreign Ministry facility, Kim said his government had chosen the week of July 25, the administration official said.

For years, the U.S. government has believed that North Korea possesses at least two nuclear weapons. Intelligence analysts believe that the country may have acquired several more in the recent past.





| | |
| --- | --- |
| | |
| Space shuttle Discovery launch delayed | |

| | |
| --- | --- |
| | |
| Blair plans measures to uproot extremism | |

| | |
| --- | --- |
| | |
| Pakistan train crash carnage kills 128 | |
Today's Top News
Top World News

Taiwan's KMT Party to elect new leader Saturday




'No trouble brewing,' beer industry insists




Critics see security threat in Unocal bid




DPRK: Nuke-free peninsula our goal




Workplace death toll set to soar in China




No foreign controlling stakes in steel firms