London bombing sites combed as toll passes 50
(Agencies)
Updated: 2005-07-09 13:33
Investigators picked through torn-up train carriages in tunnels deep below central London, hunting for clues and yet more bodies as the toll from Britain's deadliest terror bombings rose past 50.
Almost 36 hours after three bombs ripped through subway trains on Thursday and a fourth blew apart a packed double-decker bus, some bodies remained underground, while the families and friends of those missing waited in agony.
In a chilling echo of the September 11, 2001 attacks on the United States, hand-written posters started to appear at train stations around the British capital as relatives appealed desperately for information.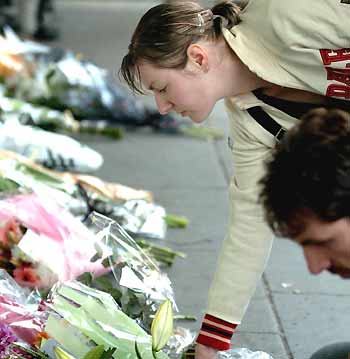 A man and a woman leave flowers in memory of the victims of the bomb blast at King's Cross in London Friday, July 8, 2005. [Xinhua]

The city itself returned to some semblance of normality, with the suspended underground rail line operating a partial service and buses running full schedules.

However, many commuters chose to stay at home after an attack that police and government officials have linked to the Al-Qaeda terror network, while others expressed trepidation about using a public transport system shown to be so vulnerable to attack.

A group calling itself the Organisation of Al-Qaeda Jihad in Europe claimed responsibility for the attack in a statement on an Internet site. Its authenticity could not be confirmed.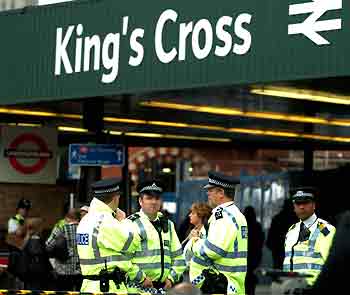 London police patrol at King's Cross in London Friday, July 8, 2005. [Xinhua]

Home Secretary Charles Clarke said there was a "strong possibility" an Al-Qaeda linked group committed the attacks.

"The fact is, the modus operandi, the nature of the events and the website claims, all of these give some substance to that being a strong possibility," he said.

An Islamic leader had warned in a Portuguese newspaper interview 15 months ago that a London-based group, Al-Qaeda Europe, was on the verge of a major attack.

"Here in London there is a very well-organized group, which calls itself Al-Qaeda-Europe," Sheikh Omar Bakri Mohammed, the Syrian head of the London-based group Al-Muhajiroun, told the Portuguese daily Publico in an interview published April 18 last year.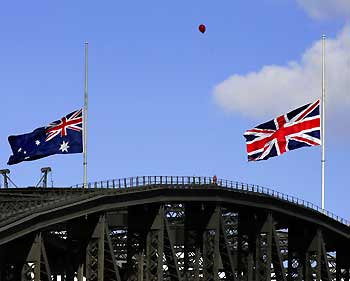 A red balloon floats past the Union Jack (R) and the Australian Flag on top of the Sydney Harbour Bridge which fly at half mast as a mark of respect for people killed in the London train and bus bombings, July 9, 2005. [Reuters]

Clarke had said the London attacks "came out of the blue" and insisted they did not represent a failure by intelligence services.

Police vowed to catch the perpetrators behind the blasts that, in the space of 56 minutes, sliced the roof off the bus -- killing 13 alone -- and slaughtered dozens in packed London Underground commuter trains.

"That is something we will bend every sinew of the Metropolitan Police Service... to do. The entire weight of the anti-terrorist branch of Scotland Yard is aimed implacably... at this operation," said the head of London's police force, Commissioner Ian Blair.

The death toll had surpassed 50, he added, but said police had "great difficulty" ascertaining the exact figure because of the perilous task of investigating a blast deep underground in central London's Russell Square station.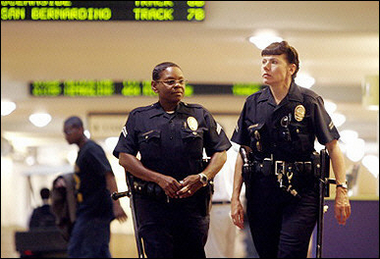 Police patrol a tunnel under commuter train platforms at Union Station in Los Angeles 07 July 2005. Nations around the world tightened security after a string of deadly bombings rocked London, attacks that Britain said bore the hallmarks of Muslim militant group Al-Qaeda. [AFP]

Those on the frontline of the gruesome search at Russell Square, in which at least 21 died, were still trying to reach some of the bodies at a scene one British Transport Police officer described as "carnage".

Besides the dead, 700 people were wounded in the explosions, of whom 350 were taken to hospital, 100 of them staying overnight. Twenty-two people were still in serious and critical conditions.

As the full horror of the attacks continued to emerge, a series of public figures insisted that London had coped with worse and would not buckle beneath the bombers' actions.

In an emotional statement, Mayor Ken Livingstone urged the city to return to normal as soon as possible, saying he planned to use the underground to go to work on Monday as usual.

He added: "I say to those who planned this dreadful attack, whether they are still here in hiding or somewhere abroad, watch next week as we bury our dead and mourn them but see also in those same days new people coming to this city to make it their home, to call themselves Londoners -- and doing it because of that freedom to be themselves."

Later, while visiting some of the injured in hospital, Queen Elizabeth II said the bombers "will not change our way of life".

British Prime Minister Tony Blair delivered a defiant message from a Group of Eight summit in Scotland, which agreed on a package of measures to assist the poor in Africa.

"We stand today in the shadow of terrorism. But it will not obscure what we came here to achieve," he said. The blasts hit on the first full day of the G8 summit, sending Blair hurrying back to London to address the nation.

He returned to London late Friday and chaired an emergency meeting of senior ministers and officials.

Despite the bravado, for some Londoners the aftermath of the bombs would likely be permanent.

Yvonne Nash spent Friday desperate with worry for boyfriend Jamie Gordon, who was last heard from the previous morning when he called a work colleague to say he was travelling to his office in the centre of the city by bus.

The mobile call was traced to the scene of the bus blast. The even worse news: Gordon's phone had been found in the bus wreckage.

"It's been devastating to be without him for just a day. It's been 27 hours and we don't know if he is dead or alive," Nash said.

Police said each of the bombs was believed to contain less than 10 pounds (4.5 kilograms) of high explosive, adding that the bombers probably left the devices on the floor of underground trains.

There was no evidence of a suicide attack in any of the blasts, the London police chief said, despite reports from passengers on the bus who said they saw a nervous-looking man rummaging in a bag seconds before the blast.




| | |
| --- | --- |
| | |
| Space shuttle Discovery launch delayed | |

| | |
| --- | --- |
| | |
| Blair plans measures to uproot extremism | |

| | |
| --- | --- |
| | |
| Pakistan train crash carnage kills 128 | |
Today's Top News
Top World News

Taiwan's KMT Party to elect new leader Saturday




'No trouble brewing,' beer industry insists




Critics see security threat in Unocal bid




DPRK: Nuke-free peninsula our goal




Workplace death toll set to soar in China




No foreign controlling stakes in steel firms