US mass transit alert goes to 'orange'
(Agencies)
Updated: 2005-07-08 07:21
WASHINGTON - The United States put its subways, buses and commuter trains on high alert after the rush-hour London bombings, moving to code orange for mass transit amid concern about a possible "copycat attack" by terrorists.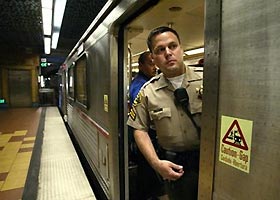 Los Angeles County sheriff's deputy Shawn Moreno patrols a Los Angeles subway car Thursday, July 7, 2005. The Bush administration raised the terror alert a notch to code orange for the nation's mass transit systems on Thursday, responding to a spate of deadly rush-hour bus and subway bombings in London. [AP]

From New York to San Francisco, cities tightened security for local rail and bus lines that carry tens of millions of Americans daily. Stepped-up safeguards included bomb-sniffing dogs, increased video surveillance and more police at train and bus stations.

Homeland Security Secretary Michael Chertoff said Thursday that authorities had no evidence of a specific, credible threat against the United States.

However, he said, "we feel that, at least in the short term, we should raise the level here because, obviously, we're concerned about the possibility of a copycat attack."

The London attacks were well-coordinated, leading to speculation about al-Qaida involvement, and U.S. officials were trying to determine responsibility.

U.S. counterterror officials said they received intelligence last month dating back to 2004 that al-Qaida was interested in attacking rail systems in Europe and the United States, including derailing trains or crashing trucks into them. The officials, who spoke on condition of anonymity because the intelligence is classified, said the report lacked specifics on the date and location of any potential attacks.





| | |
| --- | --- |
| | |
| Special police detachment established in Xi'an | |

| | |
| --- | --- |
| | |
| Panda cubs doing well in Wolong | |

| | |
| --- | --- |
| | |
| Suspect arrested in Taiwan | |
Today's Top News
Top China News

Taiwan's KMT Party to elect new leader Saturday




'No trouble brewing,' beer industry insists




Critics see security threat in Unocal bid




DPRK: Nuke-free peninsula our goal




Workplace death toll set to soar in China




No foreign controlling stakes in steel firms