Hu calls for open, just world trade
By Hu Qihua (China Daily)
Updated: 2005-07-08 05:59
GLENEAGLES, Scotland: China yesterday called on developed countries to back up developing countries' efforts to foster open and just world trade.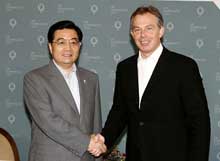 Chinese President Hu Jintao and British Prime Minister Tony Blair met Thursday, July 7, 2005 in Gleneagles, Scotland, on the development of bilateral relations. [Xinhua]
President Hu Jintao, together with heads of state from India, Brazil, Mexico and South Africa, joined in calling for more consideration for developing countries.
At the outreach session of the G8 summit with the five major developing countries, Hu said: "Together, we (G8+5) account for about 75 per cent of the global economy. We can do a great service to the balanced and sustained development of the world economy if we do a good job with our own economies."
"To this end, we should commit ourselves to adopting effective fiscal and monetary policies, readjusting our economic structures and promoting balanced and sustained development of the world economy," Hu said.
The G8 Summit, featuring Britain, Canada, France, Germany, Italy, Japan, the United States and Russia, and its outreach session with developing countries, focused on the world economy and global climate change.
The G8 meeting has agreed on the text of a communique on combating global warming, German negotiator Bernd Pfaffenbach told reporters.
He said they had agreed to try to reduce greenhouse gases by promoting cleaner technology and energy efficiency. No specific targets were mentioned in the text.


| | |
| --- | --- |
| | |
| Special police detachment established in Xi'an | |

| | |
| --- | --- |
| | |
| Panda cubs doing well in Wolong | |

| | |
| --- | --- |
| | |
| Suspect arrested in Taiwan | |
Today's Top News
Top China News

Taiwan's KMT Party to elect new leader Saturday




'No trouble brewing,' beer industry insists




Critics see security threat in Unocal bid




DPRK: Nuke-free peninsula our goal




Workplace death toll set to soar in China




No foreign controlling stakes in steel firms