Drag Queen underworld in China soliciting tolerance
(cityweekend)
Updated: 2005-07-07 14:03
Compared to our Southeast Asian neighbors, she-males and flamboyant drag queens are a rarity in China.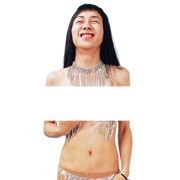 Though this month, you may see them on film and with footage that challenges the mainstream acceptance of China's attitude on transvestites and homosexuality.
Through Chinese filmmaker Jiang Zhi's film, Our Love, the hidden voice of China's drag queens finally reaches the ears of ordinary society. Based on the lives of three real queens living in Shenzhen's underworld, the film is half-documentary, half-fiction.
Sections of it are filmed in a talk show question-and-answer style, while fictional plot elements were thrown in to depict the hardships that transvestites and drag queens endure in a discriminating society.
Jiang Zhi's adventure with transsexuals began after he overheard a friend talking about a local bar with drag queen performers.
His curiosity roused, he checked it out and met his muses - the beautiful singing and dancing cross-dresser, Ping'er, and her friends Xiang Xiang and Teresa, who all play major roles in the film.
Physically, these men are arguably more stunning and feminine than your average woman.
They primp, carry make-up kits and worry about their skin and weight. By day they look like ordinary women; by night they become sensual stage goddesses.
Ping'er and friends are so convincing as women that in the film one of them has an affair with an unsuspecting straight male.
While they haven't undergone any sex change operations and are viewed by society as homosexual males playing dress up in women's clothing, Xiang Xiang, Ping'er and Teresa see themselves as fully feminine, straight women.
Jiang Zhi chose to film the men who are women both on and off stage because they are the ones who suffer the most intolerance.
Jiang Zhi's message is simple: "I hope his film will change people's attitudes towards these young men. Ideally this film will show that they are beautiful, feminine and ordinary people with hopes and dreams. I also hope my film will help people to understand and create a place for them in society."
See Our Love in Shanghai on July 16 from 2-4 pm at the Duolun Museum of Modern Art. Beijing screening dates to be announced soon. Visit www.cityweekend.com.cn for more information.
| | |
| --- | --- |
| | |
| Demi Moore: conquer aging with baby | |

| | |
| --- | --- |
| | |
| Lin Chih-ling injured in horse fall | |

| | |
| --- | --- |
| | |
| Jolie adopts Ethiopian AIDS orphan | |
Today's Top News
Top Life News

Taiwan's KMT Party to elect new leader Saturday




'No trouble brewing,' beer industry insists




Critics see security threat in Unocal bid




DPRK: Nuke-free peninsula our goal




Workplace death toll set to soar in China




No foreign controlling stakes in steel firms