Qaeda says will kill Egypt's Iraq envoy
(Agencies)
Updated: 2005-07-07 08:42
An Al Qaeda death sentence hung over Egypt's hostage envoy to Iraq on Wednesday as the new Iraqi government appealed to embassies not to desert Baghdad after a series of attacks on senior diplomats.
Egypt's Ihab el-Sherif, snatched four days ago, appeared to have fallen into the hands of al Qaeda's Iraq wing when it issued photographs of his personal documents. The group, which has beheaded previous captives, then issued a statement on a Web site entitled "Sharp sword against the infidels' ambassador":
"The sharia court of al Qaeda Organization in Iraq has decided to hand the apostate, the ambassador of Egypt, which is allied to Jews and Christians to the mujahideen to ... kill him," said the group, led by Jordanian Abu Musab al-Zarqawi.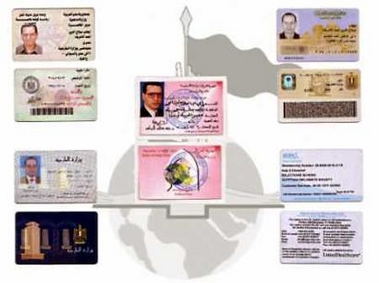 A screen capture from an Islamist Web site on the Internet, posted on Wednesday, shows identification cards of Egypt's top envoy to Iraq, Ihab el-Sherif. Iraq's al Qaeda group posted Web pictures of Ihab's identification cards showing his driving license, foreign ministry and health insurance cards as proof it had kidnapped the Arab diplomat. [Reuters]

His guerrillas have allied with fellow Sunni Muslims in Iraq, a minority there that dominated under Saddam Hussein, to mount the insurgency that has over the past two years challenged U.S. efforts to install a friendly, elected government.

Many Sunni Arabs finally joined the process of drafting a new constitution on Wednesday, however, when their delegates took part in a committee session in parliament. It revealed substantial divergences in opinion with the Shi'ites and Kurds who dominate the legislature, officials said.

Insurgent violence against Iraqi civilians has been in something of a lull in recent days, although twin car bombs near Hilla killed at least 11 and wounded 19 late on Wednesday.

There was no immediate reaction to the Qaeda statement from Cairo or the Iraqi government, which earlier renewed criticism of Ihab el-Sherif's decision to venture out alone on Saturday to buy a newspaper, allowing gunmen to grab him and drive him away.

Al Qaeda threatened further violence against diplomats.

DIPLOMATIC PRESSURE

As Pakistan's ambassador arrived in neighboring Jordan following an ambush on his motorcade in Baghdad the day before, Iraq's three-month-old government appealed to other foreign missions to stand by it in its hour of danger.

"The terrorists are targeting not only Iraqis, although it is happening inside Iraq," Prime Ibrahim Jaafari told reporters.

"We hope all countries will stand beside us, to bolster the democratic process and continue to carry out their political work in Iraq, mindful of security procedures."

The Shi'ite-led government and its U.S. sponsors have been pressing other Muslim states, mostly run by Sunnis, to give it full recognition by upgrading missions to full embassy status.

Egypt's Sherif was abducted days after Iraq said Cairo was about to do just that -- Egypt has not confirmed such a move.

Many Arab governments are suspicious of Jaafari's support from Washington and his sectarian ties to non-Arab Shi'ite Iran.

The Gulf state of Bahrain, whose envoy was wounded in what officials called a kidnap bid as he drove to work on Tuesday, promoted the diplomat to ambassadorial rank -- but added that this did not necessarily change the status of its Iraq embassy.

As Pakistan's ambassador to Iraq flew in to run his Baghdad staff from the Jordanian capital Amman, Jordan itself said it would soon send a top envoy back to Iraq: "Despite the recent attacks ... we are in the final stages of sending an ambassador," Deputy Prime Minister Marwan al-Muasher said.

Iraq's Interior Minister Bayan Jabor said the government has "a plan to protect diplomats after these incidents." He gave no details and said some diplomats were lax over security.

PARLIAMENTARY DIALOGUE

Unlike embassies of the United States, Britain and other countries that helped invade Iraq in 2003 -- which are housed in the fortified Green Zone government compound -- the missions that have been attacked rely on their own security in the city.

In separate incidents that may have also targeted diplomats, Moscow said two Russian embassy armored cars were shot at on Sunday and a bomb went off near Iran's embassy on Tuesday.

Washington, which has 140,000 troops pinned down in Iraq, hopes Iraqi government can undermine the revolt among Sunni Arabs by drawing them into peaceful politics following the failure of many of them to vote in the Jan. 30 election.

Fifteen Sunnis from outside the legislature joined a parliamentary committee, expanded to 71 members, that aims to present a draft constitution by Aug. 15. The Sunnis heard from existing delegates an outline of the state of negotiations.

Some lawmakers already on the committee said they were worried by initial dissent among the new members, saying that it could jeopardize hitting the deadline, six weeks away.

Mahmoud Othman, a Kurd, complained of "unbelievable interference" from U.S. and British officials, who, he said, were so eager to defuse Sunni resentment that they had forced the inclusion of Sunni Arabs with questionable credentials.

"Their initial response was not encouraging," Othman said, saying that the Sunni delegates disagreed with suggestions made so far for giving regions like Kurdistan substantial autonomy.

However, a spokesman for the umbrella group the Sunni Gathering, said such differences were a precursor of compromise: "Diversity of opinion is only right," said Adnan al-Dulaimi.




| | |
| --- | --- |
| | |
| Space shuttle Discovery launch delayed | |

| | |
| --- | --- |
| | |
| Blair plans measures to uproot extremism | |

| | |
| --- | --- |
| | |
| Pakistan train crash carnage kills 128 | |
Today's Top News
Top World News

Taiwan's KMT Party to elect new leader Saturday




'No trouble brewing,' beer industry insists




Critics see security threat in Unocal bid




DPRK: Nuke-free peninsula our goal




Workplace death toll set to soar in China




No foreign controlling stakes in steel firms