US targets Boeing over China technology
(Agencies)
Updated: 2005-07-07 07:02
SEATTLE, United States - The US government is poised to sue Boeing Co. for selling jets to China equipped with a computer chip that has military applications, a report said.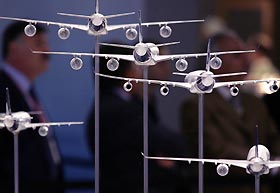 Visitors speak near models of the Airbus A380 at the Paris Air Show at Le Bourget, near Paris, June 17, 2005. [Reuters]

The aviation giant, whose production base is in Seattle, could be hit with up to 47 million dollars in fines if found guilty of 94 violations of the Arms Control Act, according to the Seattle Times report.

Boeing and government officials could not be reached for comment on the report, which could be another blow to the company's standing in Washington after a series of corruption scandals.

Aside from the fines, Boeing faces a "potential but unlikely three-year suspension from government contracts", the newspaper said.

Boeing failed to get export licenses for some microchips used in 96 jets it sold to China and other countries between 2000 and 2003, government officials maintained in civil charges cited by the report.

The State Department charges against Boeing relate to the export of jets that contain a gyroscopic chip called QRS-11, used as a backup system in determining a plane's orientation in the air.

The Times cited a Boeing document that refers to the chip as "relatively unsophisticated" technology, but notes that the gyrochip also has been used to help stabilize and steer guided missiles.

The State Department's Directorate of Defense Trade Controls claims the company sold the technology to China "deliberately and repeatedly" even after it had been warned to stop, the Seattle Times said.

Boeing "was aware that a Department export license was required but chose to export without authorization by using false statements on documents", it quoted the charges as saying.





| | |
| --- | --- |
| | |
| Special police detachment established in Xi'an | |

| | |
| --- | --- |
| | |
| Panda cubs doing well in Wolong | |

| | |
| --- | --- |
| | |
| Suspect arrested in Taiwan | |
Today's Top News
Top China News

Taiwan's KMT Party to elect new leader Saturday




'No trouble brewing,' beer industry insists




Critics see security threat in Unocal bid




DPRK: Nuke-free peninsula our goal




Workplace death toll set to soar in China




No foreign controlling stakes in steel firms