Election official says did not collude with Arroyo
(Agencies)
Updated: 2005-07-06 11:21
The Philippine election commissioner said he did not conspire with President Gloria Macapagal Arroyo to rig the 2004 election and also had talked to opposition politicians, a newspaper reported on Wednesday.
Election Commissioner Virgilio Garcillano also said recordings produced by Arroyo's rivals to bolster their claims of election cheating had been edited.
"Tell the people that the conversations that have publicly come out of the tapes are untrue. Many of the conversations were doctored," Garcillano told the Philippine Daily Inquirer in a telephone interview published on Tuesday.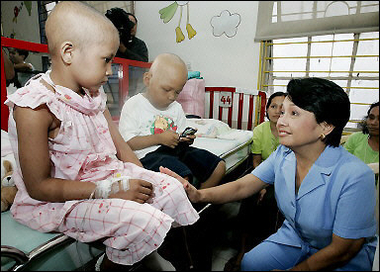 Philippine President Gloria Arroyo talks to Princess Quilana(L), an eight-year-old who is suffering from acute lymphocytic leukemia during a visit to the Philippine General Hospital Cancer Institute in Manila July 5, 2005.[AFP]

"I never did anything to destroy the electoral process."

Weeks of political turmoil, combined with a Supreme Court freeze on Friday on one of Arroyo's key economic reforms, have put a cloud over Philippine financial markets. Traders said the central bank has been defending the peso in recent days.

The Inquirer said, beyond the president, Garcillano had talked to opposition vice presidential candidate Loren Legarda, congressional minority leader Francis Escudero and opposition senatorial contender Jamby Madrigal.

Garcillano, who has been out of public view for at least two weeks, said none of the candidates asked for favors but had voiced concerns about possible fraud in the election.

Juan Ponce Enrile, an opposition senator and close ally to ousted presidents Ferdinand Marcos and Joseph Estrada, said on Tuesday he had called other election officials to ask that his votes be counted properly, but he denied doing anything wrong.

The comments reflect an adage of Philippine politics that there are no losers, only winners and those who were cheated.

ANGER BUT NO UPRISING

There is no law against candidates talking to election officials in one of Asia's more vibrant and unruly democracies.

But the opposition, calling on Arroyo to quit as it also levels allegations of corruption against members of her family, has said the conversations were improper for a president.

Arroyo apologized to the nation last week for a "lapse in judgment" for talking to an election official last year. She did not mention the recordings or Garcillano by name.

Arroyo, whose second term ends in 2010, is facing the worst crisis of her four-year presidency as some of the business groups, middle-class professionals and Catholic church leaders who form her support base begin to pull back.

Filipinos are angry about rising prices and pervasive graft but seem wary of the economic and social costs of more upheaval after "people power" uprisings against Marcos in 1986 and Estrada in 2001.

There also have been a dozen coup attempts in the last 19 years involving members of the military.

Despite opposition attempts to whip up rage against Arroyo, street protests have been relatively small. The president's rivals also lack a unifying leader and have offered few policy alternatives to cut debt and develop the economy.




| | |
| --- | --- |
| | |
| Space shuttle Discovery launch delayed | |

| | |
| --- | --- |
| | |
| Blair plans measures to uproot extremism | |

| | |
| --- | --- |
| | |
| Pakistan train crash carnage kills 128 | |
Today's Top News
Top World News

Taiwan's KMT Party to elect new leader Saturday




'No trouble brewing,' beer industry insists




Critics see security threat in Unocal bid




DPRK: Nuke-free peninsula our goal




Workplace death toll set to soar in China




No foreign controlling stakes in steel firms