China denies yuan revaluation claim
(Agencies)
Updated: 2005-07-01 20:17
China's central bank has denied it is to announce a revaluation of its currency after two US senators said US Federal Reserve chief Alan Greenspan and administration officials believe Beijing will make changes to the yuan soon.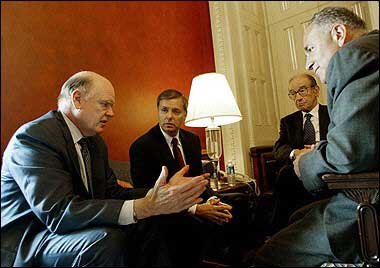 (L-R) U.S. Treasury Secretary John Snow, Sen. Lindsey Graham (R-S.C.), U.S. Federal Reserve Board Chairman Alan Greenspan and Sen. Charles Schumer (D-N.Y.) discuss China trade policy on Capitol Hill in Washington June 30, 2005. [AFP]


"With regard to the yuan's revaluation, we never make predictions and there is no timetable," a spokesman for the People's Bank of China said.

After a meeting with Treasury Secretary John Snow and Greenspan, US Senators Charles Schumer and Lindsey Graham announced Thursday they had agreed to shelve a tariff bill set for a vote in July after being convinced a revaluation is coming.

The Senators had been assured that the revaluation "could well occur in a very short while, in the next few months", said Schumer.

He said the top officials had given an undertaking to him and Graham, a Republican, that China should shortly "be on the path to revaluing its currency".

Accordingly, the pair decided to drop their proposal that would have imposed a 27.5 percent tariff on all Chinese exports to the United States unless Beijing quickly took steps to reform its currency regime. A vote had been set for July 27.

China, which keeps its currency effectively pegged at 8.28 yuan to the dollar, has come under sharp criticism from trade partners, especially the United States, for maintaining an exchange rate that is seen as giving its exporters an unfair advantage.

Beijing has promised to bring about greater flexibility to its currency regime, but refused to set a timetable and insists it will not be forced into any move.