Hibiscus blooms' and creates a buzz on the Net
By Raymond Zhou
Updated: 2005-07-01 14:36
Sister Hibiscus is not beautiful - by most accepted standards, that is.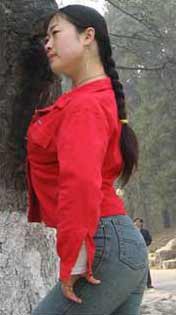 The revealing "S figure" of Sister Furong dressed in red [baidu]

But, going by the philosophy that "if you haven't got it, flaunt it," she has created quite a buzz in China's online world.

Usually referred to as frjj, short for "Furong Jiejie," Sister Hibiscus' apparently misplaced confidence in her looks, writing and dancing ability has made her something of an Internet legend.

And while her tireless self-publicity has gained her comparison with a myriad other desperate Z-list celebrities, one lingering question sets Sister Hibiscus apart: Is she deluded, does she really believe she is as beautiful and talented as she claims, or is she fooling us, and manipulating the public for future profit?

Then, there is the possibility, albeit slight, of a classic underdog story. Born in a peasant family in Shaanxi Province, Sister Hibiscus did not have an easy time with the country's college entrance system. It took her three tries to get into college, and since graduation, she has set her eyes on two of the country's best schools - Peking University and Tsinghua University - for postgraduate studies. Three tries later, she is still outside the ivory tower.

But for a long time, she could almost pass as a Tsinghua member. She frequented the university's online forums, leaving very personal essays and posting provocative photos taken at well-known campus locations.

What has made her stand out, however, is her self-evaluation: "My sexy appearance and ice-and-jade pure quality bring me a lot of attention wherever I go. I'm always the centre of everything. People never tire of looking at my face, and my physique gives men nose-bleeds."

Sister Hibiscus says things as if she is living in a romance novel. Many call her a narcissist, but she prefers the term "self-confidence."

Ever since she became the subject of endless online coverage and discussions, netizens have been heaping both mud and flowers on her - tons of them.

She works as an editor for an electronic publisher, but fame, which she insists is unavoidable to her, has gained her a cult following.

Experts have flipped out their Swiss-army knives and have been dissecting the phenomenon as if it were a virus plaguing the nation. Most believe that it is "cruel" and "evil" for her "fans" to keep up the "circus." This woman is obviously suffering from some kind of delusion, they contend, and she needs professional care, not the encouragement of a cynical electronic audience.

"I cannot imagine how much she'll be hurt when, someday, she wakes up to reality," writes Liu Tianzhao, a freelance commentator on entertainment issues. "Those who enjoy this kind of humour reek of madness."

Others have called her "a pioneer in anti-intellectualism." As media platforms are controlled by so-called "elites," the public tend to go to the other extreme and create heroes who epitomize the opposite of all academic and aesthetic norms.

"Who are you to tell me what is good, what is entertaining and what should be popular? It's time I was master of my own judgment," writes Li Fang, an essayist.

Sister Hibiscus, who may be unaware of the sociological implications of her actions, has just auditioned for an Internet movie, whose casting and plot are determined, to some extent, by online votes.

Sister Hibiscus' photos have also been reported to carry a Trojan Horse virus, so anyone downloading her image might also get a nasty surprise on their hard drive.





| | |
| --- | --- |
| | |
| Demi Moore: conquer aging with baby | |

| | |
| --- | --- |
| | |
| Lin Chih-ling injured in horse fall | |

| | |
| --- | --- |
| | |
| Jolie adopts Ethiopian AIDS orphan | |
Today's Top News
Top Life News

Taiwan's KMT Party to elect new leader Saturday




'No trouble brewing,' beer industry insists




Critics see security threat in Unocal bid




DPRK: Nuke-free peninsula our goal




Workplace death toll set to soar in China




No foreign controlling stakes in steel firms