The sex oppression of migrant workers voiced
By Echo Shan (chinadaily.com.cn)
Updated: 2005-07-01 09:55
"Sex just once a week is totally unbearable," reads complaint letter to a popular newspaper based in Shenzhen, a boomtown in South China's Guangdong Province that is built on the shoulders of countless migrant workers.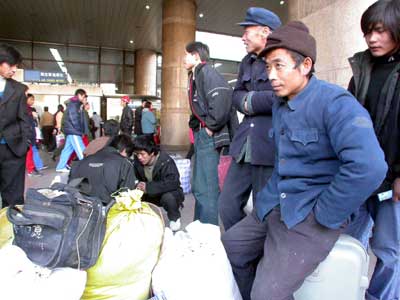 Migrant workers await trains outside a trian station. They leave for cities in the hope to gain a better life. [newsphoto]


The letter, sent by over 30 migrant workers, all married men in their robust 20s or early 30s toiling at a local factory, voices their sex anxieties over their rare contact with their wives.

The factory allows married employees off only once a week to reunite with their lonely wives. Couples go the rest of the week without as much as a glance of each other.

"We are legally bound and our marriage is protected by the law," said Chen Qiang, who drew up the letter of complaint on behalf of all married men working for the Taiwan-funded factory who want more family time with their wives.

"We just want our family life and our sex right which are ruthlessly deprived by the factory," Chen said, adding, "Most of those married workers came to the city along with their loved ones."

There are a total of 300 migrant workers in the factory where Chen works and some 30 are married. Those married ones who have their partners in the city can have one day off per week, while those who are single are permitted only two days off within a whole month.

The married ones used to have only two days off also, until they protested several times against it.

Right now Chen's wife, who works in another factory, lives in a rented flat single room near Chen's factory, where the two meet just once a week.

"I'm worried about my wife spending the whole night alone in the room," complained Chen. "We two have sex only once a week, which makes me feel depressed."

These kinds of rigid rules are very common in local privately owned factories that cash in on migrant workers' hard work while having little concern about their lives and needs.

"The silly rules are against human instinct for sex and marriage life," said Chen, adding "That also runs counter to the nation's marriage and workers' law."

When asked about the issue, the boss of the factory declined to make any comment.

China, in a time of great change, has a migrant worker population of over 130 million scattered throughout urban areas.

The sexual oppression of migrant workers has long been a social cancer as more and more farmers leave their far-flung home soil for booming cities, with their wives taking care of the family at home.

To relieve the suffering of loneliness and sex anxiety, migrant workers are more likely to turn to prostitutes. This easily put them at the risk of acquiring STDs or even AIDS, which can destroy their families.

It is very harmful to migrant workers' physical and mental health for them to be long restrained from a regular sex life, which is a natural instinct for human beings, said sexologists.

"Love nests" leased to migrant worker couples at a low price were initiated last year at the migrant worker-densely-populated areas in Shenzhen in a bid to better solve their basic needs.

However, it is still a far cry from a sustainable life for migrant workers whose throes pave the way for China's dynamic advancement, in a time of great change.




| | |
| --- | --- |
| | |
| Demi Moore: conquer aging with baby | |

| | |
| --- | --- |
| | |
| Lin Chih-ling injured in horse fall | |

| | |
| --- | --- |
| | |
| Jolie adopts Ethiopian AIDS orphan | |
Today's Top News
Top Life News

Taiwan's KMT Party to elect new leader Saturday




'No trouble brewing,' beer industry insists




Critics see security threat in Unocal bid




DPRK: Nuke-free peninsula our goal




Workplace death toll set to soar in China




No foreign controlling stakes in steel firms