Arroyo cabinet member quits amid Philippines scandal
(Agencies)
Updated: 2005-06-30 14:32
The Philippines agriculture minister quit amid allegations of tax fraud as President Gloria Arroyo tried to win back popular support after owning up to impropriety in the 2004 election.
Agriculture Secretary Arthur Yap, a key aide to Arroyo, said he had resigned Thursday because he did not want a tax fraud investigation involving his family to cause further damage to Arroyo's troubled government.
Yap insisted however that his resignation was not in response to mounting pressure on Arroyo and her allies to step down after allegations of fraud during last year's presidential elections.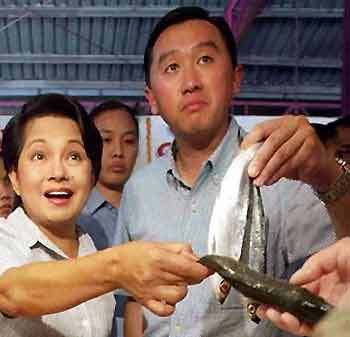 Philippine Agriculture Secretary Arthur Yap (R) holds a fish beside President Gloria Macapagal Arroyo during a visit to a seafood market in Manila in this undated file photo.[Reuters/file]

"I have become convinced that the correct and proper thing for me to do is to clear my name not as a cabinet member but as a citizen of the republic," said Yap, who pledged to stay on until his replacement was appointed.

Had he elected to remain in government and was cleared of the allegations, there would be allegations of a whitewash, he said.

"And if state prosecutors find probable cause and file charges in court, I risk embarrassing the government, which is the last thing the government or she (Arroyo) needs at this time."

Arroyo, whose popularity rating has plummeted over the past month, faces possible impeachment after Congress launched twin inquiries into alleged vote fraud and supposed payoffs made by illegal lottery operators to her husband, son and brother-in-law. The inquiries resume Thursday.

She has been under increasing pressure since she admitted on Monday to having improperly called an election official during the May 2004 vote count.

Her admission came after the opposition released this month an audio tape in which the president can purportedly be heard plotting with a senior election official to fix a million-vote victory in the election.

Without confirming that the voice on the tape was hers, the US-educated economist admitted calling an election official.

She apologised on television for a "lapse of judgement" but denied rigging the vote, in which she beat the country's most popular movie star Fernando Poe by just over a million votes.

As Arroyo worked to win back support, a key ally, House of Representatives member Joey Salceda, told radio Thursday there would be major announcements over the next few days and "a cabinet revamp is among them".

Arroyo spokesman Ignacio Bunye, however, downplayed speculation over a cabinet reshuffle, which was widely reported in the Manila media on Thursday.

"The rumours are exaggerated," Bunye said.

In an effort to rid her government of scandal, Arroyo announced Wednesday that her corruption-tainted husband had volunteered to leave the country.

Jose Miguel Arroyo would go to Hong Kong and was expected to remain there until further notice, his lawyer said Thursday.

In mid-June the president's son Juan Miguel Arroyo took indefinite leave of absence from his seat in the House of Representatives.

The House is expected over the next week to assign a committee to investigate if there are sufficient grounds to vote on whether Arroyo betrayed public trust by making the phone call, one of several grounds for impeachment.

Her spokesman said her majority in the House and Senate should help her escape impeachment. "There will be some who will try to ride on the issue, but we cannot do anything about that," Bunye said.

The House majority was reduced by one on Wednesday when Roilo Golez, Arroyo's former national security adviser, denounced her the telephone call and announced he was quitting the ruling coalition.

The political turmoil appeared to affect the Philippine peso, as the currency traded near record-lows early Thursday, sinking to 56.19 to the dollar and moving closer to its record low of 56.45.




| | |
| --- | --- |
| | |
| Space shuttle Discovery launch delayed | |

| | |
| --- | --- |
| | |
| Blair plans measures to uproot extremism | |

| | |
| --- | --- |
| | |
| Pakistan train crash carnage kills 128 | |
Today's Top News
Top World News

Taiwan's KMT Party to elect new leader Saturday




'No trouble brewing,' beer industry insists




Critics see security threat in Unocal bid




DPRK: Nuke-free peninsula our goal




Workplace death toll set to soar in China




No foreign controlling stakes in steel firms