Sharon orders security crackdown on far-right Jews
(Agencies)
Updated: 2005-06-30 14:13
Israeli Prime Minister Ariel Sharon said he had ordered "every necessary step" to be taken to prevent Jewish ultranationalists from trying to derail his Gaza withdrawal plan through violence and road blockades.
Sharon lashed out at far-right Jews in newspaper interviews on Thursday after a day of clashes between security forces and anti-withdrawal activists in Gaza and on Israel's highways.
It was the worst day of violence between Israeli police and soldiers and ultranationalists bent on scuttling Sharon's plan to evacuate all 21 Jewish settlements in the occupied Gaza Strip and four of 120 in the West Bank in August.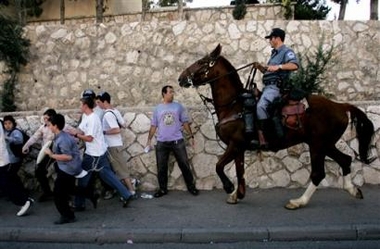 An Israeli mounted police officer rides towards anti-disengagement protesters during a demonstration aimed at blocking traffic in the ultra-orthodox Mea Shearim neighborhood in Jerusalem, Wednesday, June 29, 2005.[AP]

"Every incident of this sort of rampaging must stop. I have given clear instructions. We will take every necessary step so that life in Israel proceeds normally," Sharon told the daily Yedioth Ahronoth.

On Wednesday, anti-Arab Kach radicals squatting in a house in a Palestinian district outside the Gush Katif settlement seriously wounded a Palestinian youth by throwing rocks at his head from close range during stone-throwing clashes.

Israeli soldiers later stormed the building and ousted the Kach members, mainly youths, who had been intent on establishing a stronghold of resistance to the planned settler evacuation. Thirty rightists were arrested.

Israeli police also arrested 150 anti-pullout demonstrators who tried to block highways around Israel during Wednesday's evening rush hour.

Sharon, in an interview with the Haaretz daily, called the assault on the Palestinian youth "an act of savagery, vulgarity and irresponsibility. We cannot let a small group of law breakers impose a reign of terror."

Opponents of Sharon's plan to "disengage" from conflict with the Palestinians seeking statehood have threatened to bring Israel to a halt ahead of the pullout.

Some ultranationalists have also threatened violence, and the lives of Sharon and the army chief of staff.

"They have said they will set the country on fire. They won't set anything on fire. Every one of us must understand and fight this dangerous phenomenon," Sharon told Yedioth Ahronoth.

Israeli media said security forces would put a number of radicals under detention without trial and that judicial officials would demand harsh sentences for demonstrators blocking roads or those who throw nails on them.

On Wednesday, suspected opponents of the Gaza withdrawal threw spikes and spilled oil on the Tel Aviv-Jerusalem highway, causing major traffic jams and at least 20 tire blowouts.

Attorney General Menachem Mazuz ordered the perpetrators be charged with willfully endangering human life on the roads, a charge that carries a 20-year maximum jail term, Haaretz said.




| | |
| --- | --- |
| | |
| Space shuttle Discovery launch delayed | |

| | |
| --- | --- |
| | |
| Blair plans measures to uproot extremism | |

| | |
| --- | --- |
| | |
| Pakistan train crash carnage kills 128 | |
Today's Top News
Top World News

Taiwan's KMT Party to elect new leader Saturday




'No trouble brewing,' beer industry insists




Critics see security threat in Unocal bid




DPRK: Nuke-free peninsula our goal




Workplace death toll set to soar in China




No foreign controlling stakes in steel firms