World Bank urges India to invest more in education
(Agencies)
Updated: 2005-06-29 09:10
India should invest more in education to maintain and deepen its niche in information technology and high-skilled labor, the World Bank said on Tuesday.
The South Asian powerhouse is home to one-quarter of the world's 104 million children out of school, according to an estimate in a report called "India and the Knowledge Economy." The development lender urged India to ease regulations on private schools and training centers to create more graduates, innovators and entrepreneurs.
Private institutions could also cater more directly to business needs, helping attract companies and add jobs, the World Bank said.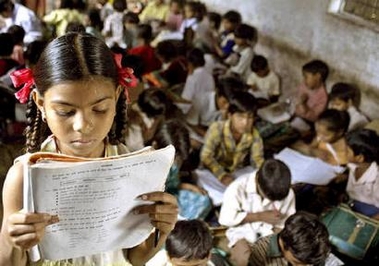 A school girl reads her book inside her class at a government-run school in village Kurana on the outskirts of Bhopal in this picture taken August 24, 2004. India should invest more in education to maintain and deepen its niche in information technology and high-skilled labor, the World Bank said on Tuesday.[Reuters/file]

While India boasts many scientists, engineers, technicians and researchers, the country of more than 1 billion people struggles with persistent poverty and illiteracy.

The report, prepared by the World Bank Institute, an in-house think tank, urged the country to revamp its primary education system to align it more closely with skills required in the market. University-level training must also be tailored to India's economic needs, the bank said.

"India needs to make its education system more demand driven to meet the emerging needs of the economy and to keep its highly qualified people in the country," said Anuja Utz, a co-author of the report.

"This means raising the quality of all higher education institutions, not just a few world-class ones," Utz said.

RESEARCH AND DEVELOPMENT

The Washington-based lender also urged India to reinforce its communications infrastructure, particularly in rural areas, and improve technology use in agriculture and other industries.

"Great potential exists for increasing productivity by shifting labor from low productivity and subsistence activities in agriculture, informal industry, and informal service activities to more productive modern sectors," it said.

Attracting foreign investment will also be critical as India seeks to reverse a long-running "brain drain" of skilled workers moving abroad, the bank said, adding the country also needs to boost its burgeoning research and development sector.

About 100 multinational companies have set up research and development centers in India, the World Bank estimated, many attracted by India's well-skilled, English-speaking workforce earning lower wages than their European and U.S. counterparts.

Companies that have outsourced work to India span the automotive, pharmaceutical, telecommunications and information technology sectors, the bank said, pointing to emergent hubs in cities like Bangalore and Hyderabad.

The global lender urged India to promote closer links between the private sector and schools and training centers.

"Linkages among local firms, universities and research institutes and the worldwide (research and development) network of multinationals further integrate India into global technology development," it said.




| | |
| --- | --- |
| | |
| Space shuttle Discovery launch delayed | |

| | |
| --- | --- |
| | |
| Blair plans measures to uproot extremism | |

| | |
| --- | --- |
| | |
| Pakistan train crash carnage kills 128 | |
Today's Top News
Top World News

Taiwan's KMT Party to elect new leader Saturday




'No trouble brewing,' beer industry insists




Critics see security threat in Unocal bid




DPRK: Nuke-free peninsula our goal




Workplace death toll set to soar in China




No foreign controlling stakes in steel firms