Maggie Cheung talks about her divorce
(Agencies)
Updated: 2005-06-29 09:06
"CLEAN," which garnered Maggie Cheung a coveted Palme d'Or in Cannes last year, will be screened Friday in Britain.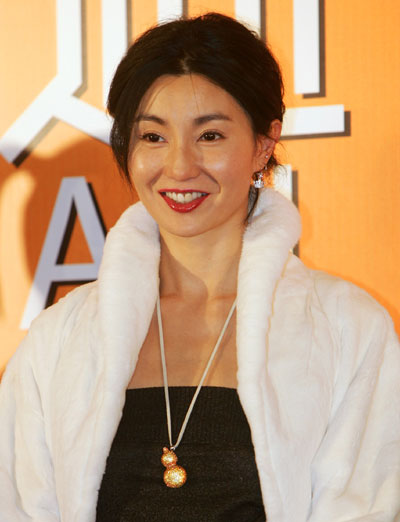 Hong Kong actress Maggie Cheung attends the premiere of her film "Clean" in Hong Kong November 29, 2004. Cheung was awarded the Best Actress title for her role in the film "Clean" by French director Olivier Assayas at the 57th Cannes Film Festival in 2004. [Reuters]


The film was written and directed by her ex-husband, famous French director Olivier Assayas, virtually as a parting gift, in the knowledge that they were about to divorce.

In the film, Cheung plays Emily Wang, wife and manager of a washed-up 1980s rock star on the road in Canada.

In 1996, Assayas introduced Cheung to Western audiences in "Irma Vep," a critically-acclaimed thriller, after she had appeared in more than 60 Hong Kong films. The film also introduced the two to each other, after which they married.

But two more recent Chinese films in which she starred ¡ª Wong Kar-wai's sumptuous and atmospheric romance, "In the Mood for Love," and Zhang Yimou's martial arts movie, "Hero" ¡ª "destroyed" Cheung's marital life.

The actress had to stay in China for more than a year shooting the films.

"When I returned to Paris, everything changed. The divorce papers actually came in during the shooting of the film," Cheung recalled.

When the couple decided their marriage wasn't working and that they should separate, Assayas asked Cheung whether he should continue writing the script. "I said 'Sure, if that doesn't bother you, I'm into it,'" Cheung commented.

By the time of the shoot, they had already divorced. "The sadness I was carrying around helped me play Emily," she said.

"We had been together for five or six years, and he gave me so much. He knew who I was. Even Wong Kar-wai, who I've worked with three or four times, still never saw me in my moments," she said.

After the divorce, Cheung appeared grown up and fraught. Meanwhile, she may have decided where to put down roots.

"I think it's going to be London. I'm going to come back," she commented at a press conference in London.

| | |
| --- | --- |
| | |
| Demi Moore: conquer aging with baby | |

| | |
| --- | --- |
| | |
| Lin Chih-ling injured in horse fall | |

| | |
| --- | --- |
| | |
| Jolie adopts Ethiopian AIDS orphan | |
Today's Top News
Top Life News

Taiwan's KMT Party to elect new leader Saturday




'No trouble brewing,' beer industry insists




Critics see security threat in Unocal bid




DPRK: Nuke-free peninsula our goal




Workplace death toll set to soar in China




No foreign controlling stakes in steel firms