China, Japan to tighten ties via financial talk
(Xinhua)
Updated: 2005-06-28 19:11
Chinese Foreign Ministry spokesman Liu Jianchao said on Tuesday that China and Japan had agreed to establish a bilateral financial dialogue mechanism and would discuss about details at the working level.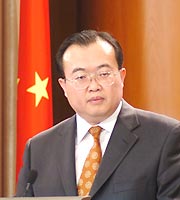 FM spokesman Liu Jianchao listens at the regular press conference in Beijing, June 28, 2005. [fmprc]

"The two sides expressed the hope that the first ministerial dialogue could be held at the earliest possible time" after Chinese Finance Minister Jin Renqing met with his Japanese counterpart Tanigaki Sadakazu in Tianjin last Saturday, Liu told a regular press conference.

In a bid to implement Chinese President Hu Jintao's proposals on promoting Sino-Japanese ties, the two finance ministers met on the eve of the Sixth Asia-Europe Finance Ministers' Meeting held in the northern China port city of Tianjin on Sunday, Liu said.

To further promote financial cooperation between China and Japan, the two ministers agreed to enhance cooperation between the two finance ministries, which "will help promote prosperity in Asia and the world at large," Liu said.

The two ministers agreed that China and Japan are increasingly dependent on each other in the economic field in the process of economic globalization, and are facing opportunities and challenges in economic development, Liu said.

DPRK "Refugees"

When asked about persons who illegally cross the border from the People's Democratic Republic of Korea ( DPRK), Liu said, "They are not refugees, therefore the convention on refugee is not adapted to those people."

He said China's position on the issue is very clear, pledging that China will handle the issue in accordance with China's laws, international laws and humanitarian principles to maintain the peace and stability on the Korean Peninsula.

"The facts have proved that China's methods on the issue is proper and effective," Liu added.

Illegal Text Books

It is legal to hold textbooks for a Japanese school in northeastern Chinese city of Dalian, said Liu Jianchao.

On April 25, Dalian Customs held temporarily 128 textbooks sent from Japan to the Japanese school in Dalian and found different colors were used for Taiwan and Chinese mainland on maps of 15 geography books.

One-China policy is concerned with Chinese sovereignty and Chinese people's feeling, said Liu, noting that China is dealing with it in accordance with the relevant laws.

Liu listed related laws the issue has violated, saying that 15 geography books will be returned back to Japan according to law.




| | |
| --- | --- |
| | |
| Special police detachment established in Xi'an | |

| | |
| --- | --- |
| | |
| Panda cubs doing well in Wolong | |

| | |
| --- | --- |
| | |
| Suspect arrested in Taiwan | |
Today's Top News
Top China News

Taiwan's KMT Party to elect new leader Saturday




'No trouble brewing,' beer industry insists




Critics see security threat in Unocal bid




DPRK: Nuke-free peninsula our goal




Workplace death toll set to soar in China




No foreign controlling stakes in steel firms