Solana sees no change in EU nuclear policy on Iran
(Agencies)
Updated: 2005-06-28 08:46
EU foreign policy chief Javier Solana on Monday ruled out an immediate change in the bloc's nuclear policy on Iran following the weekend election of Mahmoud Ahmadinejad as president.
The European Union will stand by an agreement reached at a meeting with Iran's chief nuclear negotiator, Hassan Rohani, in Geneva at the end of May, he said.
"At that time, we offered the possibility of presenting to the Iranian leaders around the end of July ... a comprehensive proposal for them to analyze. We don't have any reason to change at this point in time," Solana told reporters.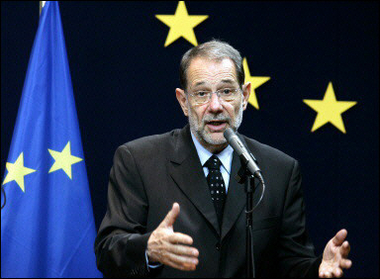 EU foreign policy chief Javier Solana of Spain gives a press point at EU headquarters in Brussels, June 27, 2005. The European Union has no reason to change its policy towards Iran following the election of ultra-conservative Mahmood Ahmadinejad, Solana said. [AFP]

German Chancellor Gerhard Schroeder said in Washington on Sunday that the EU should put forward new proposals to solve the dispute over Iran's nuclear program, but Solana said he was talking about the same plan to present a new proposal in July.

"The Schroeder proposal ... it's nothing new. We took that decision on May 25 in Geneva, we had a meeting with Mr Rohani and we offered that. That is what the Chancellor was referring to," he said.

The EU's "big three," Britain, France and Germany, are negotiating with Iran for an end to its uranium enrichment program -- which they, along with the United States, suspect is a front for making nuclear weapons.

Iran, the world's fourth largest oil exporter, says the aim of the program is to meet rising electricity demand.

PARIS AGREEMENT PARAMOUNT

Solana insisted that Iran stick to the terms of a deal reached with the three EU nations last November in Paris, under which Iran agreed to suspend all nuclear fuel-related activities while both sides tried to negotiate a long-term solution to Iran's nuclear ambitions.

"Nothing, nothing, nothing will be accepted by us which is not in the terms of the Paris agreement," he said.

Supporting his stand, British Foreign Secretary Jack Straw told reporters in London: "We are working on the basis that any incoming government in Iran will honor the commitments made by the outgoing government."

"We look to the Iranian government under its new president-elect to honor those commitments," Straw said.

Speaking in Warsaw, German Foreign Minister Joschka Fischer and his French counterpart Philippe Douste-Blazy backed Solana's stance.

"As long as the Paris agreement is valid, we have room for negotiations," Fischer told reporters after talks with Douste-Blazy and Polish Foreign Minister Adam Rotfeld.

Douste-Blazy added: "We wish for the Paris agreement to be the basis of our talks (over nuclear policy with Ahmadinejad's regime)."

Solana said he wanted to see how the hardline Ahmadinejad, a former mayor of Tehran, started his presidency before commenting on possible implications for EU-Iranian relations.

"At this point in time I am just in a waiting mood," he said. "I took note of the elections and I think the most important thing is to wait and see how the words are translated into action.

"I have my doubts about some of the manner in which the election took place, but in any case I want to wait and see the actions more than the words."