Legislative discussion opens on reducing police rights
(China Daily)
Updated: 2005-06-27 23:52
China's top legislators are considering reducing police powers to detain suspects in order to safeguard citizens¡¯ rights.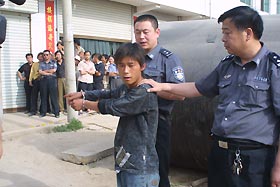 A suspect involved in murder of Internet caffee owners is taken to the site where he with another three killed the couple and robbed their business. The photo is taken in Xi'an, Shaanxi Province, on May 16, 2005. [newsphoto]

The proposal was put forward by the National People¡¯s Congress (NPC) Standing Committee as part of a draft law dealing with minor public order offences.

The NPC Standing Committee discussed the draft for the second time as a weeklong session began on Sunday.

Under the new draft, the police power to detain suspects for 36 hours and keep them in jail for 30 days, would be cut to a maximum of 12 hours detention and 20 days in jail respectively.

According to Zhou Kunren, vice-chairman of the NPC Law Committee, the draft law on punishment for public order infractions and security administration sets out a framework in which police would be allowed to detain suspects for eight hours.

A further four-hour extension would only be available if approved by a county level or higher public security department.

However, Yang Meixi, an NPC deputy and policeman from North China¡¯s Shanxi Province, said yesterday that 12 hours might not give police enough time to investigate a case.

The current rule, a regulation adopted in 1986 and amended in 1994, reads: ¡°Punishment for violations against public order and security violations should be conducted in public and fairly to respect and guarantee human rights.¡±

The new draft also has a special chapter on the supervision of public security authorities and police officers.

Under the proposed regulations, police officers would be forbidden from keeping money from the fines they impose. Instead, forfeited money would be handed over to the exchequer.

The measure is to combat some police who have treated money from fines as a bonus to their regular salary.

The draft picks out 10 specific kinds of police behaviour regarding minor offences that would result in administrative punishment or, in some cases, criminal responsibility.

Illegal behaviour includes torturing suspects, restricting their freedom and keeping money paid in fines.

If public security departments or police were to be found guilty of any of these behaviours, they would be required to apologise and shoulder civil responsibility.

Zhang Yumao, an NPC Standing Committee member, fully supported increased supervision of China¡¯s police officers.

¡°Although most police officers fulfil their duties, there is some corruption among public security workers,¡± he said.

Under the draft law, police and public security officers would still retain the authority to warn, fine and detain those who commit minor offences including assault, falsifying documents and disturbing the public order.

Those arrested and charged with violating the Criminal Law will be prosecuted.

The agenda for today, day 3 of the NPC Standing Committee session, calls for legislators to examine State Council reports on the final results of the 2004 central budget and related audits

They will also examine treaties on judicial assistance with Brazil and Latvia, as well as the extradition treaty with the Philippines, submitted by the State Council.

A draft amendment to the law protecting women¡¯s rights will also be discussed today.




| | |
| --- | --- |
| | |
| Special police detachment established in Xi'an | |

| | |
| --- | --- |
| | |
| Panda cubs doing well in Wolong | |

| | |
| --- | --- |
| | |
| Suspect arrested in Taiwan | |
Today's Top News
Top China News

Taiwan's KMT Party to elect new leader Saturday




'No trouble brewing,' beer industry insists




Critics see security threat in Unocal bid




DPRK: Nuke-free peninsula our goal




Workplace death toll set to soar in China




No foreign controlling stakes in steel firms