Yuan reform 'up to China' : ASEM Finance Ministers' Meeting
(Xinhua)
Updated: 2005-06-26 17:27
European finance officials on Sunday acknowledged the timing of China's exchange rate reform should be upon the country's own decision. They did not press the yuan to appreciate in a hurry.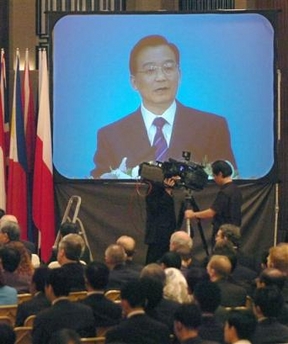 Chinese Premier Wen Jiabao delivers a keynote speech Sunday, June 26, 2005 at the opening ceremony of the Sixth Asia- Europe Finance Ministers' Meeting (ASEM FMM) in Tianjin, eastern China municipality. ASEM FMM, an important forum under the framework of the Asia- Europe Meeting, is aimed at implementing resolutions and principles reached by Asia-Europe summit meetings on fiscal and financial issues, and improve economic and financial cooperation among Asian and European nations. [AP]


The officials who are here attending the Sixth ASEM Finance Ministers' Meeting actually echoed the remarks of Chinese Premier Wen Jiabao, who told the meeting Sunday morning that it is the "common understanding" around the world that every country is entitled to choose the exchange rate mechanism and policy suitableto its own national conditions.

"Keeping renminbi (RMB) exchange rate basically stable at a reasonable and balanced level is in the interests of economic development not only in China but also in neighboring countries and region as a whole, and contributes to world financial stability and expansion of trade," Wen said in his keynote speech at the opening ceremony.

In an interview with Xinhua on the sidelines of the meeting, Deputy Finance Minister Caio K. Koch-Weser of Germany acknowledged,"We need a joint strategy of all major trading regions."

It means that the United States has to bring private and publicsavings up and consolidate their public finances, that Europe has to do deeper and faster structural reforms to bring growth rates up, and that east Asian emerging economies increasingly will have to produce flexibility in their exchange rate regimes, he explained.

Some developed countries, typically the United States, argue that the yuan, which has been traded at about 8.28 per US dollar in recent years, is artificially low, giving Chinese exporters an advantage unfair to trade partners. Because of this, they complainthey have suffered from huge trade deficits and job losses.

But the prevailing view among well-known economists and economic officials, including those from the United States, is that it were the domestic problems in the United States, such as alow savings rate, that affected its economy, and that a lower yuanwill not help.

"Premier Wen put very well the responsible role that China has played over the last ten years including during the Asian crisis and I felt encouraged by what he said about building increasingly a marketplace foreign exchange rates regime," Koch-Weser said.

"But it is up to China to decide the timing (of exchange rate reform) and we are waiting," he said.

Vowing to keep the yuan "basically stable," China does not meanits currency will not float at all. On Sunday, Premier Wen Jiabao reiterated that China must uphold the principles of "independent initiative, controllability and gradual progress" in pursuing RMB exchange rate reform.

"By 'independent initiative,' we mean to independently determine the modality, content and timing of the reform in accordance with China's needs for reform and development," said the premier.

In the exchange rate reform, Wen said, China should take account of its possible impact on the country's macro-economic stability, economic growth and job market, give consideration to the state of the financial system, the level of financial regulations, resilience of the enterprises and effect on foreign trade, while keeping an eye on the economic and financial performance of the neighboring countries and regions, as well as the world as a whole.

"By 'controllability,' we mean to properly manage the changes in RMB exchange rate at the level of macro-regulations. We must push forward the reform but always stay on top of the challenges, so as to prevent fluctuations in the financial market and economicinstability," the premier said.

"By 'gradual progress,' we mean to push forward the reform in astep-by-step manner. We must take into consideration both the present needs and future development and guard against undue haste."

"In short, we need to continue improving the RMB exchange rate forming mechanism and develop an exchange rate system that is moremarket-oriented and more flexible," Wen said.

RT Hon Des Browne, chief secretary to the British Treasury, said he was "pleased" by what the Chinese premier said, adding, "We will continue to be supportive of China's ambition in this regard."

"It is very important and very good that Chinese leaders paid great attention to this matter (currency reform) and I'm sure thismatter will develop in time," Rastislav Sulla, counselor/head of the trade and economic department, the Slovakian Embassy to China,told Xinhua.

Polish Finance Minister Miroslaw Gronicki said, "I like the gradual approach to solve the issue. I mean, any movements on currency may have effects not only on the Chinese economy, but on the Asian economy."

What China is doing -- moving gradually to liberalize the exchange rate -- is a "right thing," the minister said.

"I don't mean in a near time, but in five- to ten-year time, the Chinese economy will need a different currency regime to adjust it to the developing economy and at this moment, I think any rush will not do good."






| | |
| --- | --- |
| | |
| Special police detachment established in Xi'an | |

| | |
| --- | --- |
| | |
| Panda cubs doing well in Wolong | |

| | |
| --- | --- |
| | |
| Suspect arrested in Taiwan | |
Today's Top News
Top China News

Taiwan's KMT Party to elect new leader Saturday




'No trouble brewing,' beer industry insists




Critics see security threat in Unocal bid




DPRK: Nuke-free peninsula our goal




Workplace death toll set to soar in China




No foreign controlling stakes in steel firms