Wen: Goal for yuan is a managed float
(Agencies)
Updated: 2005-06-26 10:30
China will keep its exchange rate basically stable while striving towards the goal of a market-driven, managed float regime, Premier Wen Jiabao said at an Asia-Europe meeting of finance ministers in Tianjin, on Sunday.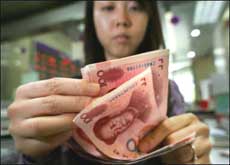 China's exchange rate reform is a 'slow business', central bank head Zhou Xiaochuan said on May 24, 2005. [AFP]

Wen said China's reform of the yuan currency would be gradual to avoid economic shocks, and must be done with consideration for China's economic and financial stability, as well as the impact on the region and the world.

China is under intense pressure from its trading partners to allow the yuan to strengthen, in line with its rising trade surpluses.

Beijing keeps the yuan pegged in a narrow range around 8.28 to the dollar but has repeatedly said it will gradually make the yuan more flexible, but in its own time.





| | |
| --- | --- |
| | |
| Special police detachment established in Xi'an | |

| | |
| --- | --- |
| | |
| Panda cubs doing well in Wolong | |

| | |
| --- | --- |
| | |
| Suspect arrested in Taiwan | |
Today's Top News
Top China News

Taiwan's KMT Party to elect new leader Saturday




'No trouble brewing,' beer industry insists




Critics see security threat in Unocal bid




DPRK: Nuke-free peninsula our goal




Workplace death toll set to soar in China




No foreign controlling stakes in steel firms