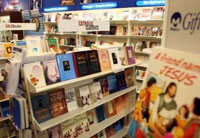 Histories, self-help, children's books and psychological studies are all sold at the Alba House, a Christian bookstore in New York City June 20, 2005. (reuters)
Christian girls just want to have fun too, and the U.S. publishing industry is working overtime to cater to a growing demand for good , clean fun.
Sales of religious books are booming, and the category has much more to offer than just bibles and prayer books.
From Christian chick lit to frank discussions of sexuality and how to avoid temptation, the shelves of both Christian bookstores and secular chains offer a variety of wholesome reading that would have been unthinkable a few years ago.
According to the Book Industry Study Group, which uses data from all sectors of the industry, total U.S. book sales rose 2.8 percent in 2004 to $28.6 billion, while religious books saw 11 percent growth to nearly $2 billion.
Calculating exact sales is difficult, however, and the Evangelical Christian Publishers Association says sales of its members' books is an annual $2.38 billion.
Much of the growth is from books like Rick Warren's "The Purpose-Driven Life," the top-selling non-fiction book in the United States in 2004, selling over 7 million copies.
The book surged back up bestseller lists in March after a woman taken hostage in Atlanta convinced her kidnapper to release her unharmed by reading him passages from the book.

Christian fiction too, long belittled as either low-quality dross or frivolous and a waste of time, is enjoying a boom that has been linked by some to George W. Bush's presidency.
Joan Marlow Golan, executive editor of Steeple Hill, an imprint of romance publisher Harlequin dedicated to "faith-based" fiction, said the Sept. 11, 2001 attacks were "very important in terms of the growth of Christian fiction."
Last year, Steeple Hill launched an imprint of "hip, fun and smart fiction for modern and savvy women of faith."
"My first thought was Christian girls just want to have fun too, so why not do a variant of chick lit," Golan said.
Guidelines for authors are strict: "The stories may not include alcohol consumption by Christian characters, dancing, card playing, gambling or games of chance (including raffles), explicit scatological terms, hero and heroine remaining overnight together alone, Halloween celebrations or magic or the mention of intimate body parts."
Another publisher offering Christian chick lit is privately held Random House whose Broadway imprint will release "Emily Ever After" in July, the story of a country girl coming to New York. Doubleday-Broadway recently announced plans to more than double the sales of its religion unit.
Lauren Winner, author of "Real Sex: the naked truth about chastity," said Christian bookstores which account for a major chunk of sales in the sector were still cautious about content but non-fiction books like hers were pushing the boundaries.
The book discusses her own sexual experiences before she converted to Christianity and is explicit about the difficulties faced by women trying to stay chaste -- a far cry from past generations when Christian publications would assume women were not troubled by desires of the flesh.
"There's definitely a blurring of lines between religious books and self help books," said Winner, 28, who is studying for a doctorate in American religious history.
Winner said that religious imprints are raising their literary standards, pointing to the major Christian publisher Thomas Nelson's fiction imprint Westbow, launched in 2003.
"It's wholly devoted to doing subtler, less hit-you-over-the-head Christian fiction," she said.
Golan said Steeple Hill was also trying to shed the preachy tone of some Christian fiction. "It's rather tedious if characters talk like pastors giving a sermon."

(Agencies)
基督教女孩们只是想和别人一样找点乐子,美国出版商们则加班加点迎合市场对这种"纯洁的"乐趣不断增长的需求。
宗教图书的销量正在急速增长,种类也不仅仅限于圣经和祈祷书。
从基督教畅销小说到公开谈论性及如何避免诱惑,基督教书店和普通的连锁书店的书架上都摆满了各种各样的有益读物,要在几年前这绝对是不可想象的事情。
图书行业研究集团(BISG)对从图书业全部类别获取的数据研究后发现,2004年美国图书销售总额为286亿美元,增长了2.8%,其中宗教类图书销售总额增长11%,达到近20亿美元。
虽然很难计算出精确的销售数据,福音基督教出版商协会仍表示,该协会成员的年销售总额约为23.8亿美元。
图书销售总额的大幅增加主要归功于诸如华理克所著的《标竿人生》等此类图书,《标竿人生》是2004年美国最畅销的非小说类图书,其销量超过700万册。
一名在亚特兰大被绑架的女人质为劝说绑架者释放她,为他读了《标杆人生》里的几段文字,结果居然打动了绑架者,平安获释。继此之后,该书在3月份一跃跻身畅销图书排行榜。

基督教小说类图书的销量也大幅攀升,这与美国总统布什的就职有一定关系。长期以来,基督教小说一直被认为是质量不高且无聊乏味,读起来根本就是浪费时间。
以出版浪漫小说而著称的禾林出版公司推出了"基于宗教信仰"的"尖塔山"系列从书,该从书的执行主编约翰·马罗·戈兰表示,2001年的"9·11"恐怖袭击事件"对基督教小说的增长非常重要"。
去年,"尖塔山"又推出了"为现代知性女人的信仰而备的轻松娱乐小说"系列。
戈兰称:""我的第一想法是,基督教女孩也需要寻找乐趣:为什么不写一种与众不同的畅销小说呢?"
作家们创作时必须循规蹈矩,"故事中不能包括基督教徒喝酒、跳舞、打牌、赌博或玩运气游戏(包括抽彩券)、说脏话、男主角或女主角单独在外过夜、庆祝万圣节、巫术或提到身体隐私部位等。"
另外一家出版基督教畅销小说的是著名的私营出版商蓝登书屋,它旗下的百老汇出版公司将在7月份发行新书《艾米丽的新天地》,该书讲述了一个乡下女孩来到纽约的故事。多布尔戴百老汇出版集团最近宣布,计划将宗教类图书销量提高两倍以上。
《真实的性:贞洁背后的真相》的作者劳伦·温娜表示,在图书销售中占据主要市场的基督教书店仍对书的内容保持谨慎,但像她的作品这样的非小说类图书则处于分水岭。
这本书讲述了她在成为一名基督徒之前的性体验,同时指出了女性在试图保持贞洁过程中所遇到的各种难题,这与上个时代的观点(当时基督教刊物认为女人不受肉体欲望的困扰)有很大的距离。
温娜称,"在宗教图书和自助图书之间肯定存在模糊的界限"。温娜今年28岁,她目前在攻读美国宗教历史的博士学位。
温娜表示,宗教图书出版商们提高了他们的文学水准,她这里指的是著名的基督教出版商托马斯·纳尔逊公司于2003年启动的专门致力于出版小说的Westbow公司。
戈兰指出,"尖塔山"从书也试图摆脱某些基督教小说的说教气息。"如果主人公说话就像牧师在布道,确实会令人乏味。"

(中国日报网站译)