Chinese kneeling for discount in McDonald's ad
(Agencies)
Updated: 2005-06-22 09:14
The Xi'an branch of McDonald's has pulled a commercial that viewers found insulting.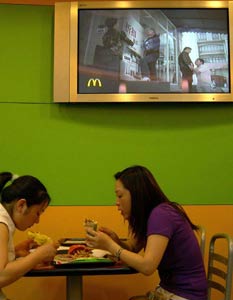 A mother and daughter dine at a Chongqing Municipality McDonald's while the insulting kneeling commercial is showed. [baidu]


It is the latest example of a multinational rubbing the Chinese customers the wrong way, following Nike's "blasphemous" kung fu advertisement about six months ago.

In the McDonald's advertisement, a Chinese man is shown kneeling before an electronics salesman, begging for a discount.

But the man's coupon has expired and the vendor turns him down. The advertisement goes on to say people do not have to beg to take advantage of a McDonald's promotion.

According to the Huashang Daily, 80 percent of Xi'an residents polled felt insulted by the commercial.

One woman said the commercial suggested the integrity of Chinese people was so poor they would get down on their knees to beg for a discount, the newspaper reported.

Marina Leung, senior director for corporate relations at McDonald's China Development Co. in Hong Kong, which overseas the mainland market, said the commercial was merely trying to use humor to attract customers.

"It is meant to convey our message in an exaggerated manner. As far as I know, our advertisement has been vetted by government authorities."

Although the Xi'an branch has already pulled the advertisement, Xi'an authorities announced they would charge McDonald's with violating the mainland's advertising regulations, according to the Huashang Daily.






| | |
| --- | --- |
| | |
| Demi Moore: conquer aging with baby | |

| | |
| --- | --- |
| | |
| Lin Chih-ling injured in horse fall | |

| | |
| --- | --- |
| | |
| Jolie adopts Ethiopian AIDS orphan | |
Today's Top News
Top Life News

Taiwan's KMT Party to elect new leader Saturday




'No trouble brewing,' beer industry insists




Critics see security threat in Unocal bid




DPRK: Nuke-free peninsula our goal




Workplace death toll set to soar in China




No foreign controlling stakes in steel firms