'Misuse of antiviral on poultry must stop'
By Fu Jing (China Daily)
Updated: 2005-06-21 02:15
The Ministry of Agriculture (MOA) plans to dispatch inspection teams nationwide to stop the antiviral drug amantadine - meant for humans - being used on poultry.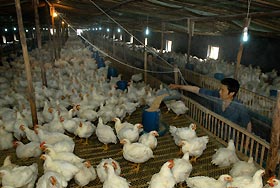 Yu Wenfu, a farmer in Northeast Liaoning Province, feeds the chicken at his hennery on June 18, 2005. [newsphoto]
An MOA official spoke out yesterday after reports, denied by the government, that some farmers are being encouraged to illegally use amantadine on their chickens to curb the spread of bird flu.
Researchers fear using the drug on animals and humans could lead to drug resistance.
Drug-resistant forms of H5N1 - a bird flu strain - have already been found in Thailand and Viet Nam, according to reports.
The government has never permitted farmers to use amantadine to treat bird flu, said Xu Shixin, MOA's division director of the veterinary bureau.
But he did not identify where the drug misuse had taken place.
"We'll take measures soon to curb the action," he said, without elaborating.
Xu refuted a report by the Washington Post on Saturday that the Chinese Government had encouraged farmers to use amantadine on their chickens to prevent bird flu. "The report was groundless," Xu said.
The World Health Organization (WHO) and the UN Food and Agriculture Organization (FAO) have both expressed concerns over the issue.
The WHO spokesman in China, Roy Wadia, said his organization will seek more information from the Chinese Government.
Zhang Zhongjun, an assistant representative of the China office of FAO, said his organization and the Chinese Government have already set up a channel to report developments on the fight against infectious diseases in animals.
"We haven't received any reports so far that the Chinese Government has allowed the use of the drug on chickens," said Zhang.
China has made breakthroughs in vaccine research against H5N1 and H5N2, highly lethal strains of bird flu, and they work effectively in combating poultry disease, he said.
MOA's Xu said the government would supply farmers with cheaper and more effective vaccines to replace the use of amantadine by some farmers.
He also said that the bird flu outbreak in China has already been brought under control.
Health experts worry that bird flu might mutate into a form that can spread directly from person to person, setting off a pandemic that could claim millions of lives.
(China Daily 06/21/2005 page1)
| | |
| --- | --- |
| | |
| Special police detachment established in Xi'an | |

| | |
| --- | --- |
| | |
| Panda cubs doing well in Wolong | |

| | |
| --- | --- |
| | |
| Suspect arrested in Taiwan | |
Today's Top News
Top China News

Taiwan's KMT Party to elect new leader Saturday




'No trouble brewing,' beer industry insists




Critics see security threat in Unocal bid




DPRK: Nuke-free peninsula our goal




Workplace death toll set to soar in China




No foreign controlling stakes in steel firms