N.Korea to give up missiles for US ties
(Agencies)
Updated: 2005-06-20 16:14
Pyongyang will give up its missiles if the United States establishes diplomatic ties with it, North Korean leader Kim Jong-il told a South Korean minister last week, an official in the South Korea said on Monday.

South Korean Unification Minister Chung Dong-young met Kim in Pyongyang last Friday and the North Korea¡¯s top leader told him Pyongyang was ready to end its year-long boycott of talks on its nuclear weapons if the United States showed it respect.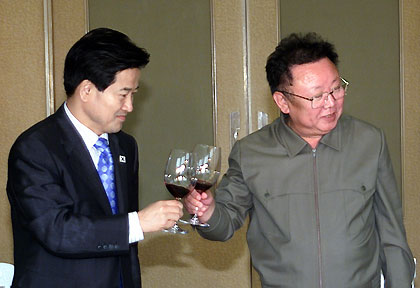 North Korea's leader Kim Jong-il (R) toasts with South Korea's Unification Minister Chung Dong-young during their meeting in Pyongyang June 17, 2005.[Reuters]
Chung briefed the South Korean cabinet on Monday.
"If North Korea normalizes diplomatic ties with the United States and Washington becomes an ally with Pyongyang, then North Korea would give up all of its missiles," Chung was quoted as telling the cabinet ministers.
The official, who asked not to be identified, told Reuters Kim had been referring to long-, medium- and short-range missiles, some of which can reach Japan as well as South Korea.
U.S. Secretary of State Condoleezza Rice said Sunday North Korea's statement that it would only return to stalled six-party nuclear talks if shown respect was ¡°an excuse¡± to avoid pressure over its atomic program. "The North Koreans love to make excuses," Rice told CNN in an interview from Jerusalem.
"The reason they don't want to come to the six-party talks is they don't like facing China and Russia and Japan and South Korea and the United States, telling them in a concerted fashion that it's time to get rid of their nuclear weapons," she said.
The six-party talks involve the two Koreas, China, Japan, Russia and the United States.
Washington's pointman for North Korea told Yonhap news agency before he left Seoul on Monday that the key was for Pyongyang to agree a date for the talks.
"When we begin these negotiations, we will conduct them in an attitude of mutual respect to all the parties and also with the sense of equality that a good negotiation should have," said Christopher Hill, assistant secretary of state for East Asian and Pacific Affairs.
Kim said on Friday his reclusive state, which fears Washington plans to invade it and declared in February it possessed nuclear weapons, was willing to "give up everything" if it received security guarantees. Proliferation experts believe North Korea could have as many as eight nuclear weapons.
It is not clear whether the North has been able to develop a nuclear weapon small enough to fit into a missile warhead. Military experts say the North probably does have chemical and biological warheads as well as conventional ones.
Separately, a government spokesman said Chung had told the cabinet Kim had proposed opening a west-coast railway line through the Demilitarized Zone border before a rail link on the other coast is finished.
Originally, the plan had been for both lines to open at the same time. The west-coast line is all but finished and would help boost use of the Kaesong industrial park the South is building just over the border in the North Korea.
| | |
| --- | --- |
| | |
| Space shuttle Discovery launch delayed | |

| | |
| --- | --- |
| | |
| Blair plans measures to uproot extremism | |

| | |
| --- | --- |
| | |
| Pakistan train crash carnage kills 128 | |
Today's Top News
Top World News

Taiwan's KMT Party to elect new leader Saturday




'No trouble brewing,' beer industry insists




Critics see security threat in Unocal bid




DPRK: Nuke-free peninsula our goal




Workplace death toll set to soar in China




No foreign controlling stakes in steel firms