Singapore's Japanese prostitute era paved over
By TAKEHIKO KAJITA (Kyodo)
Updated: 2005-06-20 10:05
Clean, safe and green, Singapore is one of the most favored destinations for modern Japanese women who want to work and play hard.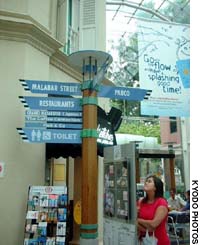 Some of the streets that formed the former Japanese red-light district in Singapore remain in a huge commercial complex called Bugis Junction.

Some of the streets that formed the former Japanese red-light district in Singapore remain in a huge commercial complex called Bugis Junction.

In Japan, women often find it difficult to get into key corporate positions and face pressure to quit once they get married or give birth. So the city-state's female-friendly working environment is quite attractive to them.

"In Japan, it's almost impossible for women aged over 30 to find a full-time position. But it's easier to get one here," said Mayo Omura, a 32-year-old accountant at the local unit of Hewlett-Packard Co.

She and many other Japanese women interviewed for this article seemed well-informed about present-day Singapore -- who to speak to for business, where to go for leisure, and what to buy at which shops.

What an overwhelming majority of them don't know about Singapore, however, was the countless Japanese women who worked here as prostitutes between the late 19th century and early 20th century, women who were referred to simply as "Karayuki-san."

"I suspect the days of Karayuki-san have become distant history," said Kazuo Sugino, secretary general of the Japanese Association in Singapore.

Karayuki-san were Japanese peasant girls -- mostly from the Shimabara Peninsula in Nagasaki Prefecture and Amakusa Islands in Kumamoto Prefecture -- who were sold into the flesh trade in colonial Singapore and other parts of Southeast Asia.

Japan, the world's second-largest economy, was a poor country a century ago, and women were one of its major exports, along with silk and coal.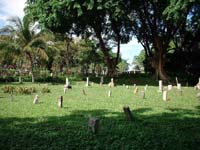 Former "Karayuki-san," or Japanese prostitutes, are buried under a number of small tombstones at Japanese Cemetery Park in Singapore.

Karayuki-san, together with other Japanese women who served as prostitutes elsewhere, including Siberia, Hawaii, Australia and some parts of India and Africa, were said to be the third-biggest foreign currency earner for Japan at the turn of the 20th century.

The existence of Karayuki-san in Singapore dates back to 1877, when there were two Japanese-owned brothels on Malay Street with 14 Japanese prostitutes, official Japanese data show.

Malay Street and the nearby streets of Malabar, Hylam and Bugis later grew into a big red-light district.

Singapore's official records suggest 633 Japanese women were operating in 109 brothels in 1905. The number is believed to have been well over 1,000, if unlicensed prostitutes are included.

Combined with the far larger Chinese-dominated red-light district and other similar districts catering to different ethnic groups, Singapore was known as one of the centers of the sex industry in Asia in those days.

As Singapore started to develop around the 1870s, immigrants -- mostly men -- rushed in from China and India to toil at rubber plantations and tin mines or as rickshaw pullers.

To maintain social order, British colonial rulers tolerated prostitution at designated brothels, bringing in Chinese and Japanese women in droves.

As Japan's international profile rose with victories in the Sino-Japanese War in 1894, the Russo-Japanese War in 1904 and its having sided with the victors of World War I, Japan began to view Japanese prostitutes working overseas as a national shame.

In addition, successful Japanese business operations in British-ruled Malaya, now Malaysia, lessened the need for foreign currency earned by Karayuki-san. So the then Japanese Consulate General in Singapore banned Japanese brothels in 1920.

Consequently, many Karayuki-san were forcefully repatriated to Japan. But many others managed to stay in Singapore or move to other parts of Malaya, illegally selling themselves.

Four decades later, a young Japanese woman who settled here after marrying a Singaporean one day encountered a former Karayuki-san by chance and was shocked to learn about the tales of Japanese women working abroad.

"I was saddened to realize that I had known nothing about Karayuki-san," said Yuko Gan, who later became a charismatic tour guide well-versed in Singapore's history.

She has since found more former Karayuki-san, listened to them and told the stories of their lives to Japanese tourists.

"I believe I grew as a human, thanks to the encounter with former Karayuki-san. Thinking about their plight fills me with courage," she said. "Up until 15 to 20 years back, four or five former Karayuki-san survived in Singapore. But not any more."

Gone with the Karayuki-san is the Japanese red-light district. Ironically, the entire district is now a giant commercial complex that houses a department store run by Seiyu Ltd. and a shopping center operated by Parco Co., both Japanese companies.

Malay, Malabar and Hylam streets remain, but they are now merely passages under the roof of a structure called Bugis Junction, a popular spot with young Singaporeans that also houses movie theaters and the Hotel Inter-Continental.

Traces of Karayuki-san are more evident at Japanese Cemetery Park, where countless -- and largely nameless -- Karayuki-san are buried along with other Japanese.

Rumiko Motoyama, a 37-year-old bridal consultant who spent her early teens in Singapore, came back in the late 1990s to what she calls her "second hometown." She visits the cemetery every summer during Bon, the Buddhist festival for the dead, to pay tribute to the deceased Japanese in Singapore, including Karayuki-san.

"I respect the Karayuki-san. They lived hard in unfamiliar places where they couldn't understand local languages. They must have been so strong," she said.

"As a Japanese living in Singapore, I'm grateful to the Karayuki-san, because I feel their hardships form a cornerstone in my mind on which I can live happily now," Motoyama said.

This year, which marks the 60th anniversary of the end of World War II, is a good opportunity for Japanese to hark back to the past and look to the future.

One can draw a lot of lessons by taking a glance at the history between Japan and Singapore, especially Japan's 1942 invasion and occupation up to 1945.

Ordinary Japanese know little about the killings of ethnic Chinese in Singapore by the Imperial Japanese Army during the war years.

Sugino of the Japanese Association wants Japanese to face up to history involving their own country and other parts of Asia in order to strengthen friendly ties.

"It is important that those planning to live in Singapore from now study the present and past of Singapore and develop a clear understanding of Singapore, including Karayuki-san and the war," he said.

| | |
| --- | --- |
| | |
| Demi Moore: conquer aging with baby | |

| | |
| --- | --- |
| | |
| Lin Chih-ling injured in horse fall | |

| | |
| --- | --- |
| | |
| Jolie adopts Ethiopian AIDS orphan | |
Today's Top News
Top Life News

Taiwan's KMT Party to elect new leader Saturday




'No trouble brewing,' beer industry insists




Critics see security threat in Unocal bid




DPRK: Nuke-free peninsula our goal




Workplace death toll set to soar in China




No foreign controlling stakes in steel firms