Another 'murder victim' steps out of the shadows
(eastday)
Updated: 2005-06-17 08:49
For the second time in two months, a "murdered" woman who has shown up alive has called into question the quality of justice in rural China.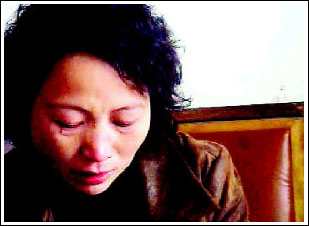 Shi Xiaorong


But unlike the previous case, where a wrongly accused husband was freed from prison, there will be no justice for this defendant. He was executed more than 15 years ago.

The latest judicial embarrassment took place in Mayang County in central China's Hunan Province.

It began in April 1987 when a woman's dismembered body was found in a river.

Police later identified the victim as a missing woman named Shi Xiaorong.

Teng xingshan, a butcher, was convicted of the murder after police testified that the technique used to cut up the body was "very professional." He was executed in 1989 despite his pleas of innocence.

Authorities alleged that Teng had sex with Shi and killed her because he suspected she stole his money.

The 1989 verdict reads, "Teng confessed his crime on his initiative, and his confession conforms with scientific inspection and identification."

Shi, who is now in a Guizhou jail for drug trafficking, said she and Teng didn't even know each other and has urged the Hunan judiciary to declare Teng's trial a miscarriage of justice.

She said she was sold into marriage to a man in eastern China's Shandong Province a month before the body was found.

She returned to her hometown in southwest China's Guizhou Province in 1993, and Teng's children were told she was alive a year later. It took them years to verify the information, and they initially lacked the funds and the courage to confront the legal system that had executed their father.

Last month, however, Teng's son and daughter filed a lawsuit with the Hunan Higher People's Court. They are demanding that the court declare their father innocent.

A sister said Shi married a man in Guizhou in 2002, and the couple was later jailed on drug charges.

A worker at labor center where Shi is being held said the woman has hired an attorney to demand compensation from authorities for defaming her.

The case comes just two months after a man who served 11 years in prison for murdering his wife was declared innocent, two weeks after the "victim" reappeared in their hometown in Hubei Province.

Former security guard She Xianglin claimed he was deprived of sleep during 10 days of interrogation until he signed documents pleading guilty to murder. He is now suing the government for compensation.




| | |
| --- | --- |
| | |
| Demi Moore: conquer aging with baby | |

| | |
| --- | --- |
| | |
| Lin Chih-ling injured in horse fall | |

| | |
| --- | --- |
| | |
| Jolie adopts Ethiopian AIDS orphan | |
Today's Top News
Top Life News

Taiwan's KMT Party to elect new leader Saturday




'No trouble brewing,' beer industry insists




Critics see security threat in Unocal bid




DPRK: Nuke-free peninsula our goal




Workplace death toll set to soar in China




No foreign controlling stakes in steel firms