Official: We're not building aircraft carriers
By Li Jing (China Daily)
Updated: 2005-06-16 21:19
A senior official in charge of China's shipbuilding industry yesterday categorically denied reports that the country is building an aircraft carrier in Shanghai.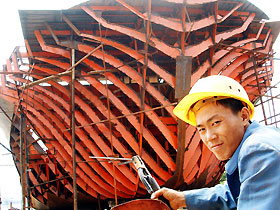 A welder poses before the hull of a ship at a boatyard in Chongqing Municipality, Southwest China. Photo is taken on May 29, 2005. [newsphoto]
"I'd like to make it clear that there's no such thing at all," said Zhang Guangqin, vice-minister of the Commission of Science, Technology and Industry for National Defence.
He made the comments when asked to confirm a report that China had started building an aircraft carrier in Shanghai.
"As a leader in charge of the shipbuilding sector, I know nothing about it," he told a press conference.
He said that China adheres to peaceful development and pursues a "defensive national defence policy." Only 10 per cent of the vessels built in China are for military use, he said.
Yet he did not rule out the possibility that China would build its own aircraft carriers in the future.
"China has a vast maritime territory. Protecting maritime security, sovereignty and rights is the sacred mission of our navy," he said, adding that "related government agencies are looking into this matter (whether or not to build an aircraft carrier).
"Arming our navy with advanced vessels and equipment is an important mission for the country's shipyards," Zhang said.
Ten countries currently have aircraft carriers in service, with the United States topping the list with half the world's total. Other countries including Britain, France, Italy, India, and Brazil account for the other half.
As for China's total vessel production, both for military and civilian use, Zhang said it would rise to 10 million deadweight tons this year, compared with 8.8 million tons last year.
China is now the world's third largest shipbuilder and has maintained an annual average increase of 26 per cent in ship production over the past five years.
It is aiming to increase its global shipbuilding market share to 25 per cent by 2010, up from 14 per cent last year.
At that rate of growth, the country will probably become the world's leading shipbuilder by 2020.
The nation's shipyards are challenging those of Japan and the Republic of Korea, the world's two largest shipbuilders, whose market share both topped 37 per cent last year, Zhang said.
"Our shipyards have entered the market for liquid natural gas carriers, breaking the monopoly on such ship types held by a few strong shipbuilding countries," Zhang said.
China can now design and build giant crude carriers, or those with a cargo capacity of 300,000 deadweight tons, and 8,000-ton equivalent unit container carriers, Zhang added.
He said about 70 per cent of these new ships built in China have been exported to more than 100 countries, including the United States, Japan, Germany, France and Canada.
Statistics from the commission show that China exported 5.6 million deadweight tons of vessels last year, for a return of nearly US$3.2 billion.
"Now more than 85 per cent of the orders in the hands of Chinese shipyards are from foreign countries," Zhang said.
However, he pointed out that the development of domestic marine equipment lagged far behind demand in the country's booming shipbuilding industry.
More than 60 per cent of the raw materials and accessories used in China's shipyards are imported.
(China Daily 06/17/2005 page1)
| | |
| --- | --- |
| | |
| Special police detachment established in Xi'an | |

| | |
| --- | --- |
| | |
| Panda cubs doing well in Wolong | |

| | |
| --- | --- |
| | |
| Suspect arrested in Taiwan | |
Today's Top News
Top China News

Taiwan's KMT Party to elect new leader Saturday




'No trouble brewing,' beer industry insists




Critics see security threat in Unocal bid




DPRK: Nuke-free peninsula our goal




Workplace death toll set to soar in China




No foreign controlling stakes in steel firms