'Block Japan's bigger whaling bid'
By Wu Chong (China Daily)
Updated: 2005-06-14 23:48
Chinese environmentalists and academics have joined forces to attack Japan's proposals to kill more than 1400 whales next year, calling on the Chinese Government to block the scheme.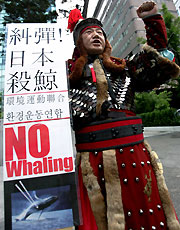 A South Korean environmentalist in a costume symbolising Admiral Yi Sun-shin, a Korean admiral who turned back Japanese invaders in the late 16th century, shouts slogans next to two skeletons of minke whales at a rally to protest Japanese whale-hunting in front of the Japanese embassy in Seoul May 23, 2005. [Reuters]

Japan halted commercial whaling in 1986 under an International Whaling Commission (IWC) moratorium but started so-called "research whaling" the next year.

Under an incremental, voluntary self-assigned quota, which does not require the consent of the 61-member IWC, the number of whales Japan hunts has risen to about 700 a year.

Now it wants to go even further, asking the international regulatory body to set up a whaling management system that would set national quotas.

Last month, Yoshimasa Hayashi, a member of Japan's House of Councillors, warned that it would break the 20-year moratorium on commercial whaling if international regulators failed to establish a whaling management system by the end of June, AFP reported.

Japan's proposal will be discussed at this year's annual meeting of the IWC in Ulsan, the Republic of Korea. Meetings started on May 27 and will go on until June 24.

As well as threatening to restart commercial whaling, Hayashi said his country wanted to double its annual quota of research whaling from the current more than 700, increasing both the number of species hunted and the hunting area.

His statement has triggered opposition from a number of countries such as the United States, the United Kingdom, Germany and Australia.

"Once a country starts commercial whaling with advanced hunting techniques, some species will probably become extinct in a short period of time," said Professor Zhu Qian, a whale expert with Shandong University.

"This endangered mammal is highly migratory. It belongs to the world, not any single country."

Meng Xianlin, a senior official with the Endangered Species Import and Export Management Office under the Ministry of Forestry, said: "China is a non-whaling country. We don't want to see countries violating the whaling commission's moratorium under the guise of 'scientific research'."

The Bureau of Fisheries under the Ministry of Agriculture, which has voting rights at the IWC meeting, refused to comment on the issue.

"I personally think the Chinese Government will consider the academic voices this time and vote against the new proposal," said Meng Zhibin, a researcher from the Endangered Species Scientific Commission.

"Research whaling" is simply an excuse, he said. "How come such a large number of whales are needed for research?"

Since 1988, Japan has been applying to increase its annual quota of whaling for "scientific research." While the proposals were not passed by the IWC, China voted in favour of Japan in the last four sessions.

Ide Keiji, a senior official with the Japanese Embassy in China, said the country supports the idea of preserving whale resources; and argued that it is a rational practice to kill a certain number for scientific purposes.

He admitted the Japanese have a tradition of eating whale meat, but added that not much whale meat is being sold in Japan nowadays.

Japan and Iceland kill whales under an exemption for scientific whaling, and Norway is allowed to kill whales because it filed an objection to the moratorium.

Statistics from the International Foundation for Animal Welfare show that about 1,400 whales are killed worldwide each year; and that about 2,000 tons of whale meat are sold in Japanese markets, mostly from minke whales.




| | |
| --- | --- |
| | |
| Special police detachment established in Xi'an | |

| | |
| --- | --- |
| | |
| Panda cubs doing well in Wolong | |

| | |
| --- | --- |
| | |
| Suspect arrested in Taiwan | |
Today's Top News
Top China News

Taiwan's KMT Party to elect new leader Saturday




'No trouble brewing,' beer industry insists




Critics see security threat in Unocal bid




DPRK: Nuke-free peninsula our goal




Workplace death toll set to soar in China




No foreign controlling stakes in steel firms