Pakistan's Musharraf: bin Laden still alive
(Agencies)
Updated: 2005-06-14 16:17
Al-Qaeda mastermind Osama bin Laden is alive and probably living in the rugged mountains bordering Afghanistan, Pakistan's President Pervez Musharraf said on Tuesday.
Speaking during a three-day visit to Australia to promote counter-terrorism cooperation and increased trade, Musharraf said Pakistan had suffered 250 casualties in fighting bin Laden's Al-Qaeda and other militant groups in its western tribal regions.
It had also destroyed the logistics and communications hubs of the terror networks so that they no longer functioned coherently, he said on Tuesday.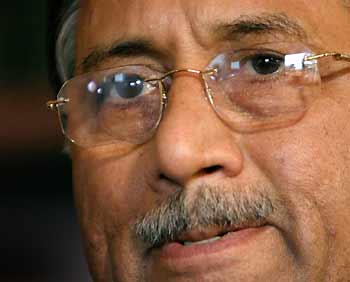 Pakistan's President Pervez Musharraf listens to a question during an interview in Canberra June 14, 2005. Australia and Pakistan are to sign a new counter-terrorism pact during a visit by Musharraf which began on Monday, officials said.[Reuters]

However, the Saudi behind the September 11 attacks on the United States was proving elusive because of the difficulty of the terrain, Musharraf said.

"It's very easy for a person to hide," Musharraf told an Australian Press Club lunch in Canberra.

"I know that he is alive. Most likely he is alive, yes, because of our information and interrogation of various Al-Qaeda operatives that we have apprehended.

"Maybe he is in the border region in hiding wherever he sees a vacuum."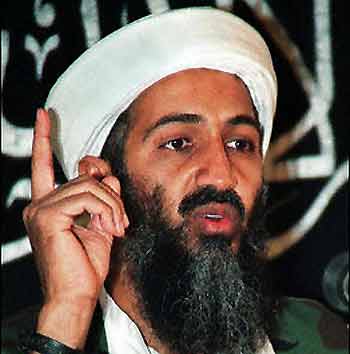 Al-Qaeda mastermind Osama bin Laden. [AFP/File]

Musharraf said while his government had deployed around 70,000 troops to fight insurgents hiding in the tribal areas separating Afghanistan from Pakistan, the soldiers could not cover the entire region.

"It is not easy to get a person there," the president said.

Musharraf is expected to sign an agreement on counter-terrorism cooperation during a meeting with Prime Minister John Howard on Wednesday. He leaves Australia on Thursday to visit New Zealand.

Musharraf seeks early solution to Kashmir

The current leaders of India and Pakistan must try to resolve the long-running dispute over Kashmir before they leave office, Pakistan President Pervez Musharraf said on Tuesday.

Musharraf, speaking a day after a deadly car bombing in revolt-torn Kashmir, said nobody could stop the violence there, but he believed the best chance for peace lay in the relationship he had developed with Indian Prime Minister Manmohan Singh.

"There is no timetable, but there ought to be some timetable ... and I have told Prime Minister Manmohan Singh that the best timetable is that it must take place within our tenures," Musharraf told Canberra's National Press Club during a visit to Australia.

"We have developed a kind of understanding between ourselves. There won't be a guarantee that future leaders will have the same understanding, (that) future leaders will have the same focus."

The term of Musharraf, who seized power in a bloodless coup in 1999 and later became president, runs until 2007.

India is due to go to the polls in 2009.

Kashmir has been at the centre of two of the three wars India and Pakistan have fought since winning independence from Britain in 1947, but relations between South Asia's nuclear rivals are improving since they launched peace talks early last year.

Overnight a car bomb exploded in Pulwama town, south of Srinagar, killing at least 14 people and wounding more than 100 in the latest incident of separatist violence in the territory.

"There is nobody who can exercise control on everyone and everything that is happening in Kashmir," Musharraf said.

"I certainly don't hold a whistle which I can blow and every bullet stops being fired," he said.

More than 45,000 people have died in Kashmir since the revolt began against Indian rule in 1989. New Delhi has long accused Pakistan of stoking the rebellion in the mainly Muslim majority region, a charge denied by Islamabad.

Separatist leaders from India's side of Kashmir have been visiting Pakistan this month with New Delhi's blessing, seen as another sign of improving ties between the neighbours.

Musharraf says trade linked to end of terror networks

Pakistan's President Pervez Musharraf has urged Australia to help in the war on terror by improving its dismal trade record with his poverty-stricken country, but stressed that the Al-Qaeda terror network no longer functions cohesively in Pakistan.

Musharraf, who is on the first-ever visit to Australia by a Pakistani head of state, said that while skirmishes with militants and raids on their hide-outs had broken their networks, poverty alleviation was the key to long-term success in the fight against Al-Qaeda and other terror groups.

Australian investment in Pakistan would provide jobs and build industries, helping ease the poverty which drives people into militant groups, he said.

"When you assist us in our industry you are indirectly assisting us in fighting terrorism," Musharraf told an Australian Press Club lunch in Canberra.

Pakistan, with its long and rugged border with Afghanistan, is on the frontline in the war against terror and is probably home to Al-Qaeda leader Osama bin Laden, Musharraf said.

However, security forces had apprehended, eliminated or deported more than 700 suspected Al-Qaeda members and had effectively broken the back of the organisation by destroying mountain hide-outs and communications hubs, he said.

"No other country in the world has done what Pakistan has done," Musharraf said. "We occupied their sanctuaries and they are now on the run in the mountains.

"I believe, in Pakistan, Al-Qaeda today ceases to exist as a homogenous entity with good command and control."

But Canberra remains concerned about links between Al-Qaeda or other Pakistan-based militant movements and Islamic radicals in Southeast Asia, including Australia.

Three of the four people facing terror charges in Australia are believed to have trained in Pakistan.

Intelligence-sharing on Australians suspected of involvement in militant training camps in Pakistan is thought to be a key element of a counter-terrorism agreement expected to be signed by Musharraf and Prime Minister John Howard when they meet on Wednesday.

Musharraf, who said he was not in favour of Australia sending troops to Afghanistan to fight insurgents, said Canberra could assist Pakistan by exporting its expertise in dairy production, mining and exploration, fruit processing, livestock and agriculture.

In 2004 Australia exported 500 million dollars (380 million US) worth of mainly wheat and oil seeds to Pakistan but only imported 155 million dollars of textiles and cotton from that country, according to government figures.

In a wide-ranging speech, Musharraf said that there should be no divisions between the Muslim world and the west.

He suggested that if the west had been more engaged with Afghanistan's Islamic fundamentalist Taliban regime, which harboured bin Laden, perhaps the terror war could have been avoided.

"I often wonder now, with hindsight, if my pleas to recognise the Taliban and try to change them from within had been accepted ... maybe even the 9/11 (attacks on the US) could have been avoided," he said.

The Pakistani president said he was now trying to build a stable peace with nuclear rival India.

Musharraf, who took power in 1999 in a bloodless coup, said he hoped the issue of Kashmir, which has suffered a 15-year insurgency and is claimed by both India and Pakistan, would be solved while he and Indian President Manmohan Singh were in power.

Howard, who will visit India next month, will also be extended an invitation to visit Pakistan, Musharraf said.




| | |
| --- | --- |
| | |
| Space shuttle Discovery launch delayed | |

| | |
| --- | --- |
| | |
| Blair plans measures to uproot extremism | |

| | |
| --- | --- |
| | |
| Pakistan train crash carnage kills 128 | |
Today's Top News
Top World News

Taiwan's KMT Party to elect new leader Saturday




'No trouble brewing,' beer industry insists




Critics see security threat in Unocal bid




DPRK: Nuke-free peninsula our goal




Workplace death toll set to soar in China




No foreign controlling stakes in steel firms