Fugitive Lai appeals to Canada's top court
(Agencies)
Updated: 2005-06-14 08:01
China's most wanted fugitive Lai Changxing appealed to Canada's top court in a desperate bid to avoid deportation.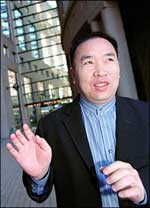 China's most wanted fugitive, Lai Changxing, pictured in 2001, appealed to Canada's top court on Monday, June 13 in a desperate bid to avoid deportation. [AFP]

Lai is wanted by China to face smuggling charges. He fled to the western Canadian city of Vancouver with his family in 1999, but his repeated bids to remain in Canada have been turned down.

Lai's lawyer, David Matas, argues that the case is of national importance to Canada, in a formal application for a hearing by the Supreme Court of Canada, in the capital of Ottawa. The court only hears cases that it deems of sufficient public importance.

China said that Lai masterminded a criminal organization in Fujian province, in which he smuggled six billion dollars worth of goods.

Canada's independent Immigration and Refugee Board earlier ruled that Lai and his wife, Tsang Ming Na, do not warrant refugee status, because they lack a well-founded fear of persecution.

Instead, said a board spokesperson, Lai is considered "a common criminal and therefore is not entitled to refugee protection." Canada's federal government also intervened to oppose Lais claim for refugee status.

China promised, made in a diplomatic note to Canada, that it would not sentence Lai to capital punishment if he is found guilty of criminal charges, AFP reported.

The Supreme Court does not announce in advance when it will release decisions on hearing specific cases.

Since their refugee case began, the Lais have lived in an apartment in the nearby suburb of Burnaby, under some restrictions on their movements.





| | |
| --- | --- |
| | |
| Special police detachment established in Xi'an | |

| | |
| --- | --- |
| | |
| Panda cubs doing well in Wolong | |

| | |
| --- | --- |
| | |
| Suspect arrested in Taiwan | |
Today's Top News
Top China News

Taiwan's KMT Party to elect new leader Saturday




'No trouble brewing,' beer industry insists




Critics see security threat in Unocal bid




DPRK: Nuke-free peninsula our goal




Workplace death toll set to soar in China




No foreign controlling stakes in steel firms