Lee: Anti-secession law leads to stable cross-Straits ties
(CNA)
Updated: 2005-06-13 09:39
Singapore's Minister Mentor Lee Kuan Yew says cross-Straits relations have actually become more stable ever since Beijing passed its Anti-Secession Law.
Mr Lee says both sides, as well as the US and Japan, know exactly what is at stake if Taipei crosses the red line.
He gave this assessment of cross-Straits ties in during an interview on China Central Television, which was aired on Sunday.
In March, Beijing passed an anti-secession law.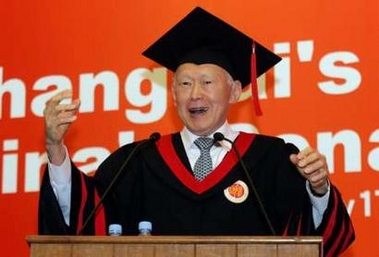 Singapore's Minister Mentor Lee Kuan Yew speaks at the ceremony where he was presented with an Honorary Doctor of Laws degree by the President of Shanghai's Fudan University Professor Wang Shenghong in Shanghai, China May 17, 2005. [Reuters/file]

The legislation sanctions the use of "non-peaceful means" against Taipei, if the island formally declares its independence.

This triggered protests in Taiwan, and for the first time the United States and Japan said that Taiwan is of strategic interest to them.

This means if Beijing attacks Taipei and the US responds, Japan is under an obligation to help the US, which effectively puts Tokyo on a collision course with Beijing.

Mr Lee said, "This is a very significant step for the Japanese government to have taken. One Japanese leader told me after this took place, he said something very indirectly, implicitly profound. He said if the Americans fight the Vietnamese as they did, after 20 years they can shake hands again. If the Americans fight Chinese after 30 years, China and America can shake hands again. But if Japan fights China, after 100 years, we cannot shake hands.

"Therefore, it means to me that they will be very careful not to be placed in a position where after 100 years they cannot shake hands. So this makes me more confident that both America and Japan will try their very best to make sure the Taipei does not do anything stupid or silly that brings them to war with Beijing."

As for the recent tension between Beijing and Tokyo, largely over Japan's nationalistic portrayal of its wartime history, Mr Lee says he is bewildered as to why the Japanese have not followed the path of the Germans.

Singapore's Minister Mentor says one likely reason is that there was never a complete demilitarization of the thinking in Japan.

This is mainly because the war crimes trials in Japan were not as conclusive, or as thorough, as the Nuremberg trials.

Mr Lee says people who should have been tried as war criminals instead became leading figures in the recovery of Japan.




Today's Top News
Top China News

Lee: Anti-secession law leads to stable cross-Straits ties




Flooding leaves 89 students dead




FDI in China dips in first 5 months




Gov't goes provincial in fight against AIDS




BoCom set to launch US$1.9b IPO in HK




Saddam lawyer wants trial in neutral state