Talks with EU avert textile trade war
By Dai Yan (China Daily)
Updated: 2005-06-11 02:07
SHANGHAI: After 10 hours of tough negotiations, China and the European Union finally agreed late on Friday night to avoid escalating the textile trade disputes.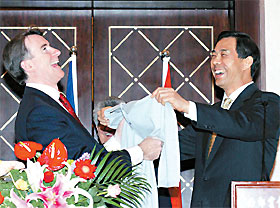 Chinese Commerce Minister Bo Xilai (right) presents a T-shirt to EU trade chief Peter Mandelson as a gift after their meeting in Shanghai on Friday. [China Daily]

The two sides agreed that by the end of 2007, the rate of increase of certain textile exports will be fixed.

No specific figures are available, but the rates will be adjusted each year, to increase in 2006 and 2007.

A completely free textile trade deal will be in place by 2008.

The agreement will cover almost all categories proposed by the EU for possible restrictions.

EU trade chief Peter Mandelson said the move was a mutually acceptable way to bring about a smooth transition to free trade in textiles, although it still needs to be endorsed by EU members. He believed they would approve it.

Chinese and EU experts have been in talks for weeks trying to resolve their trade standoff.

The EU took the dispute to the World Trade Organization two weeks ago. The move allows the EU to restrict imports of flax yarn and T-shirts to an annual growth rate of 7.5 per cent if Chinese efforts to restrict shipments do not satisfy EU members.

Experts in Shanghai said the talks showed the sincerity and willingness of the two sides to resolve the issue through negotiation.

Chinese Commerce Minister Bo Xilai began talks at around 2 pm on Friday with Mandelson. Bo had told reporters earlier that both sides were very 'frank' in the conversation.

Zhao Yumin, an expert with the International Trade and Economic Institute of the Ministry of Commerce, said the two sides have to agree on making detailed arrangements for the guideline on safeguard measures proposed by the EU earlier. Conflicts are likely to emerge and therefore the discussion takes time, he said.

The United States last month imposed controls restricting the increase of imports of Chinese-made cotton trousers, underwear, synthetic fibre shirts and other goods to an annual growth rate of 7.5 per cent.

China and the United States are still keen to solve disputes without a trade war after a trip to Beijing by the US Secretary of Commerce Carlos Gutierrez and Trade Representative Rob Portman last week failed to resolve the issue.

The measures came after global textile quotas were removed on January 1 this year in accordance with a World Trade Organization agreement a decade ago. Some categories of textile exports from China saw rocketing growth in the first several months because trade was not distorted by quotas.

Local textile companies, in limbo because of the disputes, preferred a fixed but acceptable rate which means certainty and predictability for their business.

The Chinese Government, responding to pressure from international markets, had decided to impose higher export tariffs on 74 different textile products on June 1. It began to collect export tariffs on 148 classes of textiles in January this year, the day global textile quotas were removed.

But on Monday China decided to scrap export tariffs on 81 categories of textiles from June 1, and the decision announced on May 20 to increase tariffs on 74 categories of textiles has also been revoked, since these measures created to deflect trade friction appeased neither the US nor the EU.

Many foreign-invested companies benefit from China's textile export boom. In China's textile exports to the European Union, 22 per cent are made by foreign-funded companies, according to the China Chamber of Commerce for Import and Export of Textiles.

The chamber's statistics showed in the first two months that China's textile exports to the EU totalled US$5.09 billion, rising 45.4 per cent. Exports of flax yarn involved in the trade row reached US$201.8 million, while half of the raw materials are imported from France and Belgium. The T-shirt exports in the same period amounted to US$364 million.