Nestle's apology: Too little, too late
By Dwight Daniels (China Daily)
Updated: 2005-06-10 11:45
Nestle, the Swiss food industry Goliath, finally issued an apology on Sunday for having allowed excess iodine levels into some of the milk powder it sells for infants and young children in China.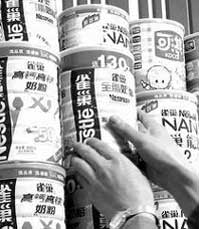 A customer selects Nestle milk powder products in a Beijing supermarket. Nestle has finally issued an apology on Sunday for having allowed excess iodine into some of the milk powder it sells for infants and young children in China. [newsphoto]
The company stressed that the affected milk powder, detected on May 25, had already been withdrawn from Chinese store shelves.
The firm issued a public statement to say that the high iodine levels were not believed to be a threat to public safety.
"We apologize for the mistake in deviating from the National Standard regarding the content of iodine in some Nestle milk-based powder products," the company said. "While there is no safety or health issue, we recognize that this deviation has caused some concerns amongst consumers and the public at large."
Despite Nestle's claims that the milk powder is still safe for consumption, various health experts at home and abroad have said that infants and children may be prone to pathological changes of the thyroid gland from excess iodine intake, particularly younger children and infants.
And the firm's decision to apologize appears to have come only grudgingly, since Nestle officials first continued to defend the milk powder and dithered for several days after the inspector's findings were made known. Stores began pulling the product from their shelves after the inspector's warnings.
The iodine-affected milk powder was found during a May 25 survey by quality inspection authorities in East China's Zhejiang Province. The "Jin Pai Growing 3-Milk Powder" exceeded national standards set for the iodine.
According to its statement, Nestle is investigating the problems with its production process and raw materials. Officials have said that new procedures will be established to ensure an increase in the frequency of iodine testing, thereby making certain that milk powder products comply with Chinese standards.
Josef Mueller, president of the Nestle greater China Region, was trotted out to make a public appearance as a featured guest on China Central Television's BizChina programme, where he apologized and repeated the company's line.
"This happened in spite of our total commitment to comply with the national standard," Mueller explained.
But it is not surprising that critics are saying that Nestle's and Mueller's apologies have come a little too late for the firm's image to withstand the negative feelings already implanted in many Chinese consumers' minds.
Qiu Baochang, a lawyer for the China Consumers' Association, was quoted as saying Nestle was only reacting to all the adverse publicity, and the apology was a "late response" coming just because of that pressure.
An online survey taken indicates the apology may be falling on deaf ears. As many as 87 per cent of consumers said they would stop purchasing Nestle products, primarily because of the firm's lukewarm response to the milk powder issue after the problem was found.
Indeed, Nestle was caught remarkably flat-footed for a multinational firm of its global standing. Many believe it reacted with the speed and alacrity of a sailor drunk on shore leave.
How could a company so ham-handedly handle a crisis involving milk powder in China, some are asking, when the market here is still in shock from a tainted-milk power scandal that claimed the lives of more than 13 infants just last year?
To create goodwill and trust with its valued Chinese consumers, Nestle should work hard to re-establish brand loyalty through offering quality products people can depend on.
That's the way the free market works.

| | |
| --- | --- |
| | |
| Shen Aojun, a moonriver goddess | |

| | |
| --- | --- |
| | |
| Russell Crowe sorry for phone tantrum | |

| | |
| --- | --- |
| | |
| New baby girl coming | |
Today's Top News
Top Life News

China rejects peppered-over UNSC reform plan




Kissinger: Conflict with China not an option




East Asia history book sets facts right




China plans no big military expansion




Housing industry cools off - Ministry report




EU, China talk to settle textile row