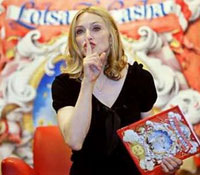 U.S. music superstar Madonna tries to silence the press as she holds up a copy of her newest children's book entitled 'Lotsa De Casha' at a reading and book signing event in New York June 7, 2005.
Take it from Madonna, the self proclaimed "Material Girl," money can't buy happiness.
That's quite a lesson from the 46-year-old pop diva, whose fifth children's book in the past 18 months "Lotsa de Casha," hit store shelves this week.
"Lotsa was by far the richest man in the country. He had everything that money could buy," is the opening line of her latest book. "But there was a teeny, tiny problem. No matter how much money Lotsa de Casha made, he wasn't happy."
The short book concludes with the moral, "When you learn to share, you will not only find happiness. You will also find a friend."
Renowned as much for her catchy dance anthems "Vogue" and "Ray of Light" as she was for cavorting on stage in a partially disrobed wedding gown some 20 years ago performing "Like a Virgin" on MTV, Madonna Ciccone Ritchie said she's left some of her old antics behind and is all grown up now.
"I'd like to think I've been evolving and transforming my whole career, I grew up," she told Reuters in an interview.
"The media likes to say it's just another one of my guises,' she said of her career as an author. "But it's much more deep and profound than that."
Madonna the singer is known as a chameleon, morphing from sexy outfits and suggestive lyrics to Eastern mysticism and Judaism. Similarly, Madonna the writer has penned a series of books which barely resemble each other.
A different illustrator was hired for each of the five slim volumes. But they are all anchored by the same message, she insists: "Nothing is what it seems."
Her intended audience and some critics might agree.
A book reading at a New York bookstore on Tuesday drew puzzled responses from the group of about 25 kids, who appeared to have difficulty grasping the book's morals.
"I think she makes the same mistake every celebrity author makes: They think they can write children's books," said Ilene Cooper, children's book editor of Booklist, the review journal of the American Library Association.
"Generally it's just awful, beyond awful," said Cooper of efforts by celebrities-turned authors.

(Agencies)
"金钱买不到快乐"。这句话不是出自他人之口,而是自我标榜为"物质女孩"的麦当娜说的。
这位46岁的流行天后在经历了人生的波澜起伏后终于明白了这样的道理。经过18个月的创作,她的第五本儿童书《快乐的真谛》本周在各书店上架。 。
麦当娜在最新的这本儿童书的开头这样写道:"罗沙是那个国家最富有的人。他拥有金钱能买到的所有的东西。但是,他却遇到了一个小小的问题:不管赚多少钱,他都不觉得快乐。"
这本薄薄的儿童书以一个寓意结尾:"当你学会和别人分享的时候,你不仅找到了快乐,同时也拥有了朋友。"
大约20年前,麦当娜身着露背婚纱在舞台上搔首弄姿,为音乐电视《像个处女》卖力表演,之后,她又凭借动人的舞曲《时尚》及《光芒万丈》而一炮走红。如今,麦当娜却说,她已经抛弃了那些老一套的滑稽动作,因为现在她已经成熟了。
"我觉得自己在不断成长,事业也在不断变化。我已经长大了。"她接受路透社记者采访时说。
"媒体可能会认为写书不过是我又一次故作姿态而已,但事实却远比这要深刻得多,有意义得多。"谈到她的作者身份,麦当娜如是说。
歌手麦当娜被公认为百变天后,从性感的服装、挑逗性的情歌到东方神秘主义和犹太教,她都一一尝试。同样,作家麦当娜也已经创作了多部作品,而这些作品之间往往有天壤之别。
麦当娜找了不同的画家分别为这五本薄薄的儿童书绘制插图。但是,她坚持认为所有的书都传递了同一个信息,那就是:很多东西并不像表面看到的那样。
她的目标读者和一些评论家们或许会同意这个说法。
本周二(6月7日),麦当娜在纽约的一家书店举行了一场朗诵会。然而,在场的大约25位小读者却显得迷惑不解,他们似乎很难理解这本书的寓意。
"我认为,麦当娜犯了一个所有名人作者都会犯的错误:他们自以为可以写儿童书。"《书单》的儿童书编辑伊琳娜·库珀说。《书单》是美国图书馆协会创办的书评刊物。

在谈到时下一些名人努力转为作家的潮流时,库珀说,"通常来讲,这是非常糟糕的事,糟糕透顶。"

(中国日报网站译)