FM: China opposes immature UN reform plan
(Xinhua)
Updated: 2005-06-10 08:03
Chinese Foreign Ministry Spokesman Liu Jianchao said in Beijing on Thursday that China firmly opposes the "immature plan" proposed by some countries on United Nations Security Council (UNSC) reform.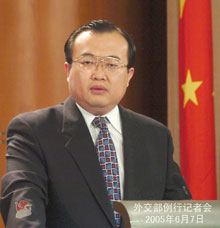 Liu Jianchao, China's foreign ministry spokesman. [fmprc.gov.cn]

"China is quite concerned about this action," said Liu at a regular press conference in response to a reporter's question.

He said that a big divergence on the UNSC reform still exists and that UN member states need to find convergence and a compromised plan through consultations. It is important to maintain the unity and long-term interests of the UN, not to fix and amend a controversial plan, he added.

Germany, Japan, Brazil and India, known as the Group of Four or G-4, circulated a draft resolution on May 16 proposing giving the four countries permanent seats in the Security Council along with two African countries.

The G-4 is also asking other UN member states to become co-sponsors of the draft resolution and has indicated they will put it to a vote by the UN General Assembly in June.

China's UN Ambassador, Wang Guangya, said in New York last Wednesday that China objects to putting the G-4 resolution to a vote next week because the UN member states are divided into two opposite groups by the resolution.

"The proposal of an immature plan has deviated the UNSC reform from a right track and has seriously undermined the overall development of the UN reform process and the preparation work for the September UN summit meeting," said Liu, noting that "China is worried by and firmly opposes actions like that."

UN Secretary-General Kofi Annan, in the UN reform report submitted to the General Assembly in March, proposed to make a decision on security council expansion before September.

While addressing the 59th session of the General Assembly, Wang Guangya said that China supports reforms of the Security Council, but objects to setting a timetable for the process or forcing a vote on any reform plan lacking consensus.

Germany, Japan, Brazil and India announced an alliance in September last year to support each other for their inclusion in the UN Security Council as permanent members.

The G-4 resolution needs to be approved by at least two-thirds of the 191 UN member states to be adopted.

Liu Jianchao also said a package of United Nation reform measures is "not helpful" and more discussion is needed before reaching a decision.

Liu made the remark when asked to comment on China's position paper concerning UN reform, which was published Tuesday.

"China supports the UN reform and strengthening the United Nations' role and multi-lateralism in a bid to better cope with global threat and challenge," Liu said. "The UN reform is of all-round and in multi-sector and it's not helpful for the reform to yield in positive results to take a package solution."

Liu said that simple reforms should be implemented soon, but for more complicated and controversial measures, UN members should"take a prudent attitude" to continue discussions.

China's position paper on UN reform fully illustrated its points of view on that, he said. China will positively and in a constructive manner to take part in the UN general assembly's discussion on relevant questions.

China will, along with other UN members, push for more results on the UN reform in a summit meeting this September, Liu said.






Today's Top News
Top China News

East Asia history book aims to set facts right




China plans no big military expansion




Rewards for good family planning




Housing industry cools off-Ministry report




Sino-EU Galileo Sat-Nav programme expands




Paper 'clarifies position' on UN reform