Housing industry cools off - Ministry report
(Xinhua)
Updated: 2005-06-09 21:15
China's overheated housing industryis cooling off after the central government strengthened macro- regulation, the Economic Information Daily reported Thursday.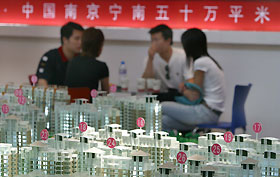 Customers talk with salesclerk in Nanjing, capital of East China's Jiangsu Province, June 8, 2005. [newsphoto]

"The growth in real estate investment is on the decline while the Chinese people's consumption on residential houses has become more rational," said an official report from the Ministry of Land and Resources.

According to the newspaper, the ministry just wrapped up a survey in 24 regions and completed 146 reports on the issues like land utilization and the status of market supply and demand.

So far, the proportion of urban land tapped for moderately-priced commercial houses and economical houses has been on the rise, says the report. In Chongqing, for instance, the proportion for economical houses has grown from last year's 5 percent to 10 percent.

In east metropolitan Shanghai, the land supply for ordinary commercial houses is projected at 2,000 hectares this year, up 138 percent over 2004, about two thirds of city's total supply for residential houses in 2005. In Ningbo, east China's Zhejiang Province, the proportion of land supply for economical houses rocketed from last year's 2.9 percent to 24.4 percent.

The survey also found there has been approximately 2,500 hectares of land vacant for more than two years across China. So far, forty-nine hectares have been taken back from land developers as a punishment.

To strike hard at speculation, south China's Guangzhou has started to levy charges on vacant lands as of May 1 while the Chongqing municipal government declined to approve more land supply to developers whose real estate programs are only half done.

To curb the overheating trend of the real estate industry and secure the housing rights of the needy, the Chinese central government required earlier this year all local governments restructure land supply, clear up vacant land and monitor the price fluctuations of real estate.

Since these policies have been well implemented, the Ministry of Land and Resources said a long-term land development plan will be mapped out. Meanwhile, a special land fund will be established to help the central government make use of land reserves to secure the healthy development of the real estate industry.




Today's Top News
Top China News

East Asia history book aims to set facts right




China plans no big military expansion




FM: China opposes immature UN reform plan




Rewards for good family planning




Housing industry cools off - Ministry report




Sino-EU Galileo Sat-Nav programme expands