Textile issue a 'yardstick' for free trade
(Bloomberg)
Updated: 2005-06-09 16:54
China's Commerce Minister Bo Xilai said U.S. and the European Union plans to limit China's textile exports are a "yardstick" of their commitment to opening markets for developing nations.
"Developed countries should respect developing countries' right to global trade," Bo said at a World Trade Organization forum in Shanghai Thursday, June 9.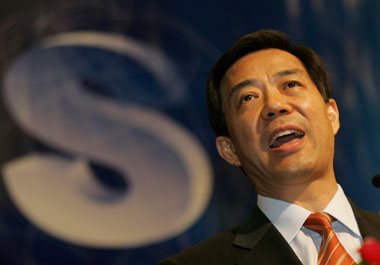 Chinese Minister of Commerce Bo Xilai speaks at the Forum on World Trade in Services in Shanghai June 9, 2005. China will protect the rights of its industry in talks with the U.S. and the E.U. over surging textile exports, Bo said on Thursday. [Reuters]

China has said it will take the dispute to the WTO should the U.S. and EU restrict its textile exports, which reportedly surged 18 percent in the first four months of 2005 from a year ago to $31.2 billion. Developing countries including Brazil have blocked a new WTO pact on opening international commerce since 2001 because of disputes over U.S. and European farm subsidies.

"China is becoming more realistic about what they can get by showing goodwill and compromising," Qu Hongbin, a senior economist at HSBC Plc in Hong Kong said in an interview Thursday. "If anything, they're starting to take a tougher stance."

WTO director-general Supachai Panitchpakdi on June 2 said the U.S. and China should attempt to resolve the trade dispute in bilateral talks before taking it to his body. He said he didn't see any "spillover effect" from the textiles spat on free trade talks, which negotiators want to complete by a December meeting of WTO trade ministers in Hong Kong.

The World Bank says $800 billion a year - an amount larger than Canada's gross domestic product - could be added to the world economy if an accord is reached.

Under a 2001 WTO agreement, China's trading partners may demand a 7.5 percent cap on textile exports following any disruption to markets after global quotas ended on January 1. Bo said on May 30 that the U.S. and the EU failed to fulfill their WTO pledges because they waited until the quota textile expiration date to phase out the product categories in which Chinese manufacturers are most competitive. The quotas were supposed to be phased out over a decade, he said.

The EU has given China until the end of this week to convince the 25-nation bloc that it will slow growth in its exports of T-shirts and flax yarn to avoid the imposition of quotas. The EU is also considering possible action to counter surging sales of seven other categories of Chinese clothing including trousers, pullovers and shoes.

"We will pursue this matter in accordance with WTO rules while respecting the rights of Chinese textile manufacturers," Bo said at the Shanghai forum. The call from his country's textile producers for government support during the dispute was "fair," he said.

China "treasures" its economic relationship with the U.S. and the EU, he said. The U.S. and the EU have benefited from trading with China during the past 20 years, said Bo. Total trade volume with the U.S. last year totaled almost $170 billion and trade with the EU was even higher, he said.

The country plans to boost the size of its financial services and insurance industries, Bo said. "In the future, China will pay high attention to the trade in services, just as we paid high attention to the trade in commodities," he said.

Services Market

Three years after joining the WTO China has opened up 62 percent of its trade services market, Bo said. This compares with 80 percent for developed markets. China had a deficit of $10.8 billion from services trade last year, he said.

"China will place more importance and develop the financial and trade services sector to bring it in line with international standards and to become one of the important destinations for outsourcing services," Bo said.

WTO rules stipulate that the U.S. must hold formal consultations with China to decide how long the safeguard measure stays in place. Unless otherwise negotiated, the caps can remain in place for a year.

The EU on May 27 called for formal consultations with China on imports of flax yarn and T-shirts, a step that means the bloc can impose import quotas within 15 days unless agreement is reached.

"The Chinese government is fully aware that the textile industry relates to the direct employment of 19 million people in China, and indirect employment of even more," Bo said on the sidelines of the Shanghai forum.

Youngor Group Co., China's biggest maker of men's shirts and suits, said it's losing orders to rivals in India and Southeast Asia because of the dispute over U.S. and European Union limits on textile exports from China.

"The trade spat has created a negative impact on Chinese enterprises," Chairman Li Rucheng told reporters yesterday. "For the third quarter, we are seeing changes as U.S. companies start to shift orders of trousers to India."

Youngor makes shirts for Marks & Spencer Group Plc and Next Plc in Europe and suits for U.S. companies such as Polo Ralph Lauren Corp. and Tommy Hilfiger Corp. It exports as many as 50,000 shirts to the European Union and a similar number of suits to the U.S. a month, Li said in the eastern port city of Ningbo.





Today's Top News
Top China News

Bush claims good enough relationship with China




Bird flu outbreak confirmed in Xinjiang




Flood death toll hits 96; relief fund floods in




Bush: US opposed to Taiwan 'independence'




Textile issue a 'yardstick' for free trade




Market sees biggest single day rise in 3 years