22 Iraqi soldiers kidnapped near Syria
(Agencies)
Updated: 2005-06-09 14:37
BAGHDAD - Twenty-two Iraqi soldiers were kidnapped near the Syrian border, an Iraqi military source said, as four US soldiers were killed in less than 24 hours in attacks north of the capital.
With no let-up in strikes against Iraq's fledgling security forces, senior Shiite leader Abdul Aziz al-Hakim demanded Wednesday that the armed wing of his party play a greater role in hunting down insurgents, who have also singled out the country's majority Shiite community for attacks.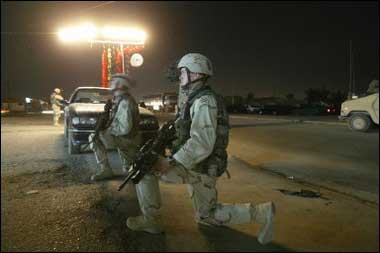 US soldiers secure the area of a checkpoint during a military operation in southern Baghdad. Twenty-two Iraqi soldiers were kidnapped near the Syrian border, an Iraqi military source said, as four US soldiers were killed in less than 24 hours in attacks north of the capital. [AFP]

The soldiers, all Shiites, were nabbed by armed men in Rawa, about 250 kilometres (160 miles) west of Baghdad, after they had left their base, said the military source, adding that nothing had been heard from them since.

The defence and interior ministries could not confirm the report.

Rawa is in the predominantly Sunni Arab Al-Anbar province that has seen several incidents of kidnapping and mass killing of Iraqi soldiers in the past.

In March the bullet-riddled bodies of at least 30 members of the security forces were found on the banks of the Euphrates near Qaim, another border town in the restive province.

Both US and Iraqi officials have accused Syria of not doing enough to stem the flow of fighters through its border with Iraq.

At another flashpoint on the Iraq-Syrian frontier, a joint Iraqi-US force pressed on with an offensive against insurgents in the northern town of Tal Afar.

Four bombers were killed when their explosives-laden vehicle detonated prematurely in Tal Afar, said Captain Ahmed Amjad of the Iraqi police.

Troops have found and destroyed nine weapons caches and detained 73 suspects since the start of the operation in Tal Afar on May 26, the US military said, adding that it was part of about 30 anti-insurgency operations nationwide.

With the major offensive in Baghdad dubbed Operation Lightning in its third week, insurgents appear to have shifted their focus north in a familiar pattern of moving attacks from one area of the country to another whenever they come under pressure.

At least 49 Iraqis and four US soldiers have been killed since Tuesday in attacks north of the capital.

A US soldier was killed Wednesday when his patrol hit a roadside bomb near Ad-Dawr, the US military said. In nearby Tikrit, ousted leader Saddam Hussein's hometown, two US soldiers were killed late Tuesday in an "indirect fire attack," on their base.

Leaflets signed by the shadowy Islamic Army were plastered on shop fronts and walls in Tikrit claiming responsibility.

"The knights of the Ali bin Abi Taleb Brigade fired a barrage of mortars and rockets last night at the citadel of infidels in the centre of Tikrit," said the leaflet.

Another US soldier in Balad was killed in a roadside bomb Tuesday.

Other violence Wednesday included the killing of two guards of Kurdish deputy Fraidun Abdulqader in the capital's tense southern district of Dura.

The US Marines also reported Wednesday that they had detained 19 employees of a contract security firm, including 16 US citizens, in the former rebel hotspot of Fallujah last month after they fired on US forces.

"Nineteen employees working for a contract security firm in Iraq were temporarily detained and questioned after firing on US Marine positions in the city of Fallujah on Saturday, May 28," Lieutenant Colonel Dave Lapan said in a statement.

In a sign of the majority Shiites' determination to cement their position in power after years of oppression under Saddam's Sunni dominated rule, Abdul Aziz al-Hakim called for greater influence over security matters for those who fought the previous regime.

In recognition of the "sacrifices and heroic positions of our brothers and brave sons from the Badr Organisation... we must give them priority in bearing administrative and government responsibilities especially in the security field", Hakim told a conference honouring Badr.

He leads the Supreme Council for the Islamic Revolution in Iraq, a key member of the Shiite-dominated government of Prime Minister Ibrahim Jaafari.

Its Badr Organisation replaced the Badr Brigade which was formed by former SCIRI boss and Hakim's brother Mohammed Baqer al-Hakim in the 1980s to fight Saddam with backing and funding from Iran.

After Saddam's fall many Sunni Arabs accused Badr and other returning Shiite dissidents of leading a vendetta against them.

The tension boiled over in mid-May with the murder of 14 Sunnis. At the time, Hareth al-Dhari, the head of the Committee of Muslim Scholars, Iraq's main Sunni religious authority, openly blamed Badr.

In a rare incident of its kind, three Iraqis and a Dutch man of Iraqi origin are being held in the Netherlands as part of an investigation into attacks against US military vehicles in Iraq.

In Washington meanwhile US Secretary of State Condoleezza Rice left the door open Wednesday for Iraqi officials to negotiate with groups linked to the insurgency, saying political reconciliation must be an Iraqi process.

"The Iraqis are trying to bring about a reconciliation of a society where societal tensions and ethnic differences were exploited by Saddam Hussein during the terrible reign that he engaged in," Rice said.

"And so there's an Iraqi process. And I don't think that we think it our place to interfere in that Iraqi process."




Today's Top News
Top World News

Bush claims good enough relationship with China




Flood death toll hits 96; relief fund floods in




33 miners killed in three blasts




Bush: US opposed to Taiwan 'independence'




Market sees biggest single day rise in 3 years




National confirmed dead in Gaza attack