Russell Crowe sorry for phone tantrum
(Agencies)
Updated: 2005-06-09 14:08
Two days after his arrest on assault charges, Oscar winner Russell Crowe shifted into damage-control mode on Wednesday, publicly apologizing for his telephone-throwing tantrum in the midst of a promotional tour for his latest film.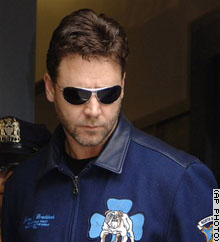 A handcuffed Crowe leaves the Manhattan police precinct on Monday.

In television interviews with MSNBC and on the CBS "Late Show with David Letterman," Crowe chalked up Monday's outburst at a New York hotel to the strain of loneliness and frustration at being unable to get calls through to his wife in Australia.

"I'm extremely sorry for this whole incident and I regret everything that took place," the New Zealand-born actor told Letterman.

"The bottom line is I did something pretty stupid. ... This is possibly the most shameful situation I've ever gotten myself (into) in my life."

Poking fun at the actor as he welcomed Crowe onto his show, Letterman picked up the telephone from his desk and moved it off stage.

Crowe, who plays a boxer in his new movie "Cinderella Man," was arrested on charges of assault and criminal possession of a weapon in connection with Monday's incident, in which police say he hurled a telephone at the concierge of the Mercer Street Hotel in Manhattan.

The actor was taken away in handcuffs and later released on his own recognizance. If convicted of assault, he could face up to seven years in prison.

Crowe's publicist issued a statement later saying the actor had thrown the phone against a wall rather than at the concierge, but police say the hotel employee was hit in the face and suffered minor lacerations.

Crowe, an Oscar winner for the 2001 film "Gladiator," told Letterman he hoped to "apologize directly to (the concierge), but at the moment he's not answering his phone."

Crowe's outburst has forced the actor to divert energy from promoting "Cinderella Man" to preventing a public backlash at a time when the film is struggling commercially.

"Cinderella Man" grossed a disappointing $18.6 million in its opening weekend, ranking No. 4 at the U.S. box office.

Crowe has acknowledged earning a reputation for a hot temper. In March 2002, he apologized for having shoved and cursed a British television producer who cut short Crowe's acceptance speech during an awards show broadcast.