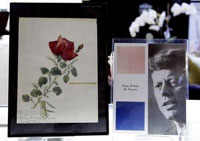 A painting of a red rose by actress Marilyn Monroe, left, meant to be a birthday gift for President John F. Kennedy and dated June 1, 1962, and a program from Kennedy's birthday celebration that took place on May 19, 1962, where Monroe sang her famous rendition of 'Happy Birthday,' are displayed at Barclay Butera Tuesday, May 31, 2005.(AP)
Personal items belonging to screen legend Marilyn Monroe, including her personal address book and a pair of stockings, were sold for more than one million dollars.
More than 200 items, including a picture of a rose that the late actress painted for US president John F. Kennedy, went under the hammer for nearly 1.04 million dollars, more than three times the expected haul.
"It was the chance of a lifetime," said Darren Julien of Los Angeles auction house, Julien's Auctions, which organised the sale of items of the Hollywood star who committed suicide nearly 43 years ago.
"There will never be another auction of this sort. This sale was a great success. Marilyn is as successful as she was 43 years ago," Julien told reporters following the sale in Los Angeles.
Monroe's personal address book was sold for a staggering 90,000 dollars, while a watercolor painting of a rose by Monroe inscribed to Kennedy sold for 78,000 dollars.
The canvass of the painting carried the inscription: "President Kennedy, Happy Birthday and again I say Happy Birthday. Always, Marilyn Monroe, June 1, 1962."
Monroe, who died of a drug overdose on August 5, 1962 at the age of 36, was said to have had an affair with both John F. Kennedy and his brother Bobby.
A pair of fishnet stockings that belonged to the blond bombshell who would have turned 79 last week sold online for 2,750 dollars, while a cashmere cardigan sold for 2,000 dollars.
Other items on sale included Monroe's divorce papers from baseball legend Joe DiMaggio, whom she married in 1954 in a union that lasted only nine months.
The auction was arranged by Monroe's estate which decided to sell 298 pieces of clothing, luggage, personal papers and even bra pads used by Monroe.
The iconic image of the tragic superstar has only grown since she died, assuring her a place as in Forbes Magazine's annual list of the 10 top-earning dead celebrities.

(Agencies)
银幕性感女神玛丽莲·梦露的私人物品,包括她的私人电话簿和一双丝袜,拍卖的总价值超过了100万美元。
参加此次拍卖的200多件物品包括梦露生前为美国前总统肯尼迪绘制的一幅玫瑰水彩画。这些物品的拍卖价接近104万美元,是预期的三倍多。
洛杉矶朱利安斯拍卖公司的戴伦·朱利安称"这是一个千载难逢的机会"。该公司承揽了玛丽莲·梦露物品的拍卖项目。这位著名的好莱坞明星于43年前自杀身亡。
朱利安在拍卖结束后向记者表示,"这次拍卖真是空前绝后,而且非常成功。玛丽莲的魅力和43年前一样经久不衰。"
梦露的私人电话簿以9万美元的高价拍出,她送给肯尼迪总统的亲笔画的拍卖价则高达7.8万美元。
水彩画上写着"肯尼迪总统,祝您生日快乐,永远的玛丽莲·梦露,1962年6月1日。"
1962年8月5日,梦露因服用过多安眠药而香销玉陨,年仅36岁。据说她与肯尼迪兄弟二人都交往甚密。
如果仍旧在世的话,这位金发碧眼的性感美女上周刚满79岁。她穿过的一双网眼丝袜现场拍卖价格达到2,750美元,另外一件羊绒开衫价格为2,000美元。
其他被拍卖的物品还包括梦露与美国棒球明星乔·迪马季奥的离婚协议书。他们二人于1954年结婚,但这场婚姻仅维持了九个月。
此次拍卖是由梦露的遗产管理机构安排的,计划拍卖的物品总共有298件,其中包括衣服、皮箱、私人文件,甚至还有梦露用过的乳垫。
这位不幸的超级明星的性感形象在其死后才开始树立起来,并确保她在《福布斯》杂志的年度"过世明星收入排行榜"中拥有一席之地。

(中国日报网站译)