Bush claims good enough relationship with China
(Chinadaily.com.cn/Agencies)
Updated: 2005-06-09 08:37
U.S. President George W. Bush said Wednesday that he has a good enough relationship with Chinese leaders to talk about any differences between them.
In in an interview with Fox News Channel's Neil Cavuto, Bush also suggested he'd like to see China move more aggressively to push North Korea to abandon its nuclear weapons programs.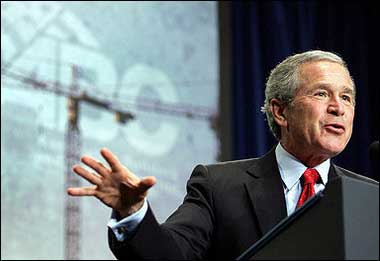 U.S. President George W. Bush said Wednesday June 8 that he has a good enough relationship with Chinese leaders to talk about any differences between them. [AFP]

Six-party talks involving the two Koreas, the United States, China, Japan and Russia - aimed at halting the North's nuclear pursuits - have been dormant for a year. On Tuesday, the United States said North Korea had agreed to return to the negotiations.

Efforts to resume the talks gained urgency in February when the North Korea claimed it already had nuclear weapons.

"China has been at the table," Bush said. "Can they do more at a different time frame than we're interested in? Perhaps. But the relationship is such that I'm able to explain to Hu Jintao, my counterpart, that, you know, keep the pressure on."

Bush sidestepped a question about the flap with China sparked when U.S. Defense Secretary Donald H. Rumsfeld, while in Asia, alleged China, the world¡¯s fastest growing economy, for increasing spending on military buildup despite the ¡°absence of a threat ¡± from another country.

"It is a complex relationship," said Bush, who then vacillated on whether he trusts China, according to the Associated Press.

"So far, I do," he said. "We'll see. ... Time will tell."

Bush said his administration is working to make sure that neither Taipei nor Beijing "provokes the other through unilateral action", but he expressed confidence that "time will heal this issue."

Bush also said he expected Beijing to implement currency reforms, as support increased in the US Congress for legislation to force China to revalue its yuan or face higher tariffs on Chinese imports.

"I mean, we're getting indications out of the government, for example, that they understand they've got to do something with their currency," Bush told FOX News.

A bill to impose a 27.5 percent tariff across the board on Chinese imports if Beijing does not revalue its yuan currency within six months is "gaining support" among lawmakers, said New York Democrat Senator Charles Schumer, who is spearheading the legislation.

He urged Bush to convene a "summit" on China trade immediately with key administration officials and Congressional leaders. The meeting "should figure out where to go next," he said.

The bill however is seen as violating World Trade Organization (WTO) rules because it would retaliate against China without authorization from the global trade watchdog.

Schumer shrugged off charges that his bill was a protectionist measure, noting that it would allow the White House to delay imposing tariffs for up to two years if China was taking steps toward floating the yuan.

China hit back on Wednesday at pressure to reform its currency, with a top central banker saying in Frankfurt it was unfair to make developing countries do most of the work on resolving global imbalances.

Peoples Bank of China Assistant Governor Ma Delun said China did intend to let its currency move more freely, but was preparing for the reforms at its own pace, and he lashed out at what he called politically motivated pressure.




Today's Top News
Top World News

Bush claims good enough relationship with China




Flood toll hits 96; relief fund floods in




33 miners killed in three blasts




Bush: US opposed to Taiwan 'independence'




Market sees biggest single day rise in 3 years




National confirmed dead in Gaza attack