Post-election violence flares in Ethiopia, 22 dead
(Agencies)
Updated: 2005-06-09 07:58
At least 22 people were killed and more than 100 wounded when Ethiopian security forces fired into crowds Wednesday in a third day of unrest over last month's disputed elections.
Ethiopian authorities said police and troops opened fire on stone-throwing crowds looting shops, robbing banks, attacking police and trying to free detainees in custody.
The government blamed the main opposition Coalition for Unity and Democracy (CUD) for inciting the worst violence seen in Addis Ababa in four years.
State television put the death toll at 22.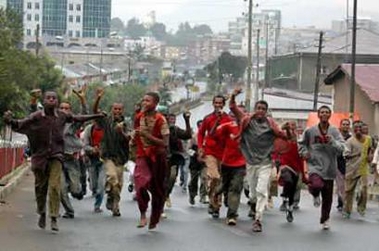 Youths carrying stones run on the road to the Addis Ababa city hall in Ethiopia June 8, 2005. The Ethiopian government confirmed several deaths on June 8 in violence it blamed on looting it said was fomented by opposition parties protesting disputed election results.[Reuters]

"The government regrets very much" the deaths, Information Minister Bereket Simon told Reuters. "CUD, which is the perpetrator of the violence, will have to take responsibility."

The CUD said the protests were spontaneous.

The shootings followed two days of student protests and weeks of rising tension over preliminary results from the May 15 parliamentary election, which the CUD says were rigged by Prime Minister Meles Zenawi's ruling party, the Ethiopian People's Revolutionary Democratic Front (EPRDF).

The EPRDF denies allegations that it rigged the vote and that it intimidated CUD officials.

One witness said police opened fire as he stepped from his house into the street with his brother, who was hit and injured.

"The EPRDF is killing us because we didn't vote for them," the man, who gave his name only as Teopros, told Reuters.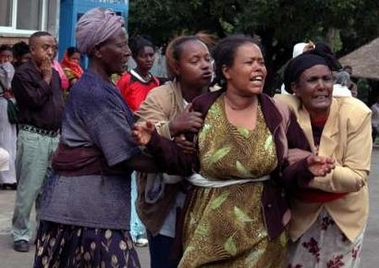 Ethiopian relatives of victims arrive at Zawditu hospital in Addis Ababa, Ethiopia, June 8, 2005. At least 22 people died and more than 100 were wounded when Ethiopian security forces fired into crowds on Wednesday in a third day of unrest over last month's disputed elections, medics and witnesses said. [Reuters]

Wednesday's killings were the worst in Addis Ababa since police and security guards killed 41 people during riots in April 2001 that followed a wave of student protests.

"ENOUGH IS ENOUGH"

Witnesses said police fired indiscriminately but others said some were taking advantage of the situation to loot and attack passers-by, Ana Gomez, the EU's chief observer monitoring the elections, told a news conference.

"One does not exclude the other," she said.

The United States, which views Ethiopia as a key ally in combatting terrorism and as a stabilizing force in the strategic Horn of Africa, called on both sides to refrain from violence and to resolve differences via political dialogue.

"All sides need to take a step back and refrain from any violence," State Department spokesman Sean McCormack. "The police and federal security forces need to respond in a restrained manner when confronted with protests."

The government, which has flooded the capital's streets with hundreds of police and paramilitary troops to enforce a month-long post-election ban on public demonstrations, said troublemakers would be dealt with sternly.

"Police have been authorized to take appropriate action against those who attempt to disrupt the peace," Ethiopian state television said in a statement.

At hospitals in the city, hundreds of relatives wept in packed wards where blood spattered the floor from the wounded and dead brought in a steady stream by ambulances.

Medics at three hospitals confirmed they had a total of 22 people killed by gunshot wounds.

Wednesday's violence followed two days of protests in which one person was killed and hundreds arrested.

During Wednesday's clashes, gunfire could be heard across the tense capital, where most shops, with the exception of bars and pharmacies, were closed.

The CUD said it had nothing to do with the violence nor a strike by taxi drivers that began Wednesday and severely hampered transportation in the capital.

"The people said 'enough is enough'," CUD spokesman Bebebe Eshetu said.

Preliminary results from the election board showed the ruling party and its allies had enough seats to form the next government in the Horn of Africa nation of 72 million people, the continent's top coffee producer.

However, the CUD increased its share of assembly seats by nearly tenfold, according to those results.

Official results are due on July 8.




Today's Top News
Top World News

Death toll of Hunan flood hits 96; US$9.6 million granted




33 miners killed in three blasts




Bush: US opposed to Taiwan 'independence'




Market sees biggest single day rise in 3 years




National confirmed dead in Gaza attack




China aviation fuel CEO may face charges