33 miners killed in three blasts
By Qin Yan (China Daily)
Updated: 2005-06-09 00:25
Three explosions in two days have claimed at least 33 lives.
The most deadly of the accidents happened at 11 am yesterday at the Zijiang coal mine in Loudi, Central China's Hunan Province, according to a release from the State Administration for Work Safety.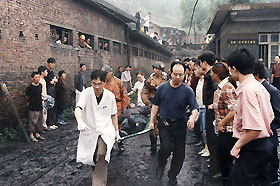 Rescuers rush an injured miner to a hospital after a gas leak at the Zijiang mine in Lengshuijiang, central China's Hunan province, June 8, 2005. [newsphoto]

The accident killed 21 miners, left four others missing and injured 24. According to the release, 224 miners were working when the accident happened.

In a second incident a blast ripped through the Laotong iron mine in Shahe, North China's Hebei Province, at about 2 am yesterday, killing nine and hospitalizing eight, the Xinhua News Agency reported.

The mine is close to those where fire killed 70 miners in November last year, Xinhua said.

Causes of the two accidents are under investigation.

In a third incident, which happened at around 9 am on Tuesday, a gas explosion at the Shilongxiang coal mine in Zhenxiong County, Zhaotong, Southwest China's Yunnan Province, killed three.

Twenty-four of the 34 miners working in the mine escaped with seven of the trapped miners being rescued. By 6 am yesterday, bodies of the three miners had been found, Xinhua reported.

In related news, police in Northwest China's Shaanxi Province arrested five suspects accused of being responsible for a deadly coal mine blast that claimed 22 lives on April 28 in Hancheng, Xinhua reported.

The five were accused of negligence in maintaining safety. They are the mine's legal representative, Guo Zongwen, deputy head He Zongfa, deputy manager Jia Linding, and technicians Han Yongzhang and Luo Peicai.

The accident occurred at the private Shangyukou coal mine in the province, trapping 32 miners. Only ten survived.




Today's Top News
Top China News

Bush claims good enough relationship with China




Flood death toll hits 96; relief fund floods in




33 miners killed in three blasts




Bush: US opposed to Taiwan 'independence'




Market sees biggest single day rise in 3 years




National confirmed dead in Gaza attack