Flood death toll hits 96; relief fund floods in
By Liang Chao and Fu Jing (China Daily)
Updated: 2005-06-09 00:25
Areas devastated by this year's natural disasters are to receive about 80 million yuan (US$9.6 million) in emergency funding from the central government.
Called "funds budgeted for catastrophic calamities," the money will be used for emergency aid, rebuilding and recovery after disasters such as flooding and drought, sources with the Ministry of Finance confirmed yesterday.
According to the official website of the State Flood Control and Drought Relief Headquarters, part of the money has already been earmarked for South China provinces battered by this summer's first floods as well as the drought-stricken Yunnan Province.
Floods and landslides have left more than 130 dead and affected 15 million across Central and South China during the past week; and the damage is still being tallied.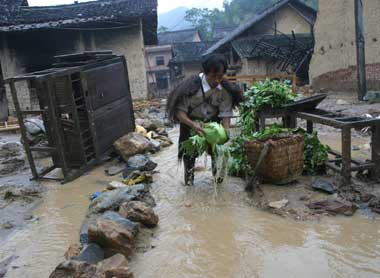 A villager washes vegetables in the muddy floodwater in Hetang county, Lianyuan city, central China's Hunan province June 6, 2005. The county was hit by mountain floods again after more than six hours of torrential rains on Monday. [newsphoto/file]

* In Hunan, reeling from floods triggered by torrential rains which began on May 31, the death toll hit 96 with 38 missing.

* In Guizhou, floods over the past weeks have claimed the lives of 49, with direct economic loses of 340 million yuan (US$41 million), according to local officials.

* In Guangxi, at least one person was killed as heavy rains pounded 23 counties, forcing more than 14,000 locals to be evacuated. Parts of Guangxi's Nanning and Guilin were under 80 centimetres of water after 200 millimetres of rain fell on the region.

"Following a week of downpours throughout South China, waters swelled above the danger level in some local rivers ," a source at the flood and drought relief headquarters said.

By yesterday, waters in the Zishui and Xiangjiang rivers in Hunan Province and the Beiliu River in the Guangxi Zhuang Autonomous Region had started receding.

Although the country's major water-swollen rivers were flowing normally, the flood and drought relief headquarters urged authorities to brace themselves for potential flash floods along big rivers like the Yangtze.

The river caused havoc in East China during the summer of 1998 following torrential rains.

In the next three days, there will be more downpours in Hubei, Hunan, Sichuan, Jiangsu and Anhui provinces, weathermen predicted.

Thundershowers are forecast for parts of North and Northeast China with possible hailstorms.

A heavy hailstorm, the second in a week, hit Beijing on Tuesday night with hailstones as big as ping-pong balls pounding western and southern parts of the capital.

In Northeast China, provincial governments are on alert for floods. Zhang Zuoji, governor of Heilongjiang Province, has told officials to be well prepared for floods forecast for the Songhuajiang River valley.




Today's Top News
Top China News

Bush claims good enough relationship with China




Flood death toll hits 96; relief fund floods in




33 miners killed in three blasts




Bush: US opposed to Taiwan 'independence'




Market sees biggest single day rise in 3 years




National confirmed dead in Gaza attack