Chinese football club uses comedian as money spinner
(Xinhua)
Updated: 2005-06-08 19:51
Chinese star comedian Zhao Benshan came to the rescue of the money-trapped Liaoning football club on Wednesday by taking over as the chairman of the Chinese Super League side.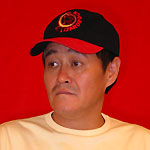 Zhao Benshan [newsphoto]

Zhao didnot make any actually financial investment in the club,except for providing the club land for training.

But Liaoning, one of the Super league clubs adopting player salary-cutting measures this season in a desperate bid to reduce financial deficit, hoped that Zhao's high profile would make the club commercially more attactive to the business community.

"With Zhao linked to our brand, the marketing of our club will open a new page," said Zhang Shuguang, the club's managing director at a press conference which attracted more than one hundred reporters from across the country.

Liaoning has been stuck in financial woes, falling behind on salary payment to players and failing to find sponsors several rounds into the new season.

The Beijing-based Olympic Sports Complex, also sued Liaoning for failing to paying for using the stadium as its home ground for the 2002-03 season and demanded more than 2.5 million yuan (about 302,000 US dollars) in compensation.

Seeking way out of the financial predicament, Liaoning turned to Zhao, a decision which worked immediately.

According to the club board, Zhao's popularity and fame is being converted into money as Liaoning Orientation high-tech company has agreed to become the title sponsor of the club, and a car manufacturer announced the extension of its sponsorship at the same press conference.

Zhao, who is a regular performer at China's spring festival gala and has starred in several popular TV series, also believed that his fame could contribute to more interest from companies in sponsoring the club.

"I believe in my own appeal to the business," Zhao told reporters. "I stepped in mainly to boost business confidence in Chinese football."

Fan's doubt

Zhao, however, stepped into football not at a right time as theChinese football is in a turmoil, beset by allegations of widespread corruption in the league like corrupt referees and players betting on football games.

Football fans are turned off by the scandals, distancing themselves from the club's stadium and shifting their attention to the televised matches of European leagues.

The Chinese Super League subsequently lost its main sponsor, German conglomerate Siemens. This season's kick-off was also postponed a month to allow clubs to look for financial backing as they struggled with falling ticket sales.

Though Zhao's hand-shake with Liaoning is expected to much fanfare and set to make big headlines in next day's sports pages, there are still doubting voices from some quarters.

More than half of the fans in a website survey argued that it is more hype than substance for the club to appoint Zhao as club chairman.

Zhao's determination

Zhao himself admitted that Chinese football did have many problems to solve, and his family also warned his fame might be tarnished for being involved in football.

At Wednesday's press conference, Zhao warned Liaoning players against getting involved in any match-fixing or football gambling, and any breach will result in being expelled out of the club.

"For an actor, the worst thing is you act on the stage without audience. What would football players feel if they play on the pitch without fans on the stands.

"Starting from the first day I took over, Liaoning must stamp out any behavior of match-fixing and football gambling. Rules are rules," said Zhao.

Though being fully aware of the challenges ahead, Zhao had strong faith in his decision to join Liaoning.

"Since I decided to sit here (for the press conference), I believed I made a right choice," said Zhao.




| | |
| --- | --- |
| | |
| WNBA: Monarchs beat Fever 65-51 | |

| | |
| --- | --- |
| | |
| Teary Pele | |

| | |
| --- | --- |
| | |
| MVP of the CBA attends college antrance examination | |
Today's Top News
Top Sports News

Tokyo Tribunal's verdict on war crimes undisputable




FM refutes Rumsfeld's claim on China military




Paper clarifies China position on UN reforms




Bankers reject US bid on China currency




China aviation fuel CEO may face charges




Sino-US programme targets HIV/AIDS