No date set for Saddam trial; Bombs kill 19
(Agencies)
Updated: 2005-06-08 09:25
BAGHDAD - Iraq's government backed away on Tuesday from suggestions that Saddam Hussein would be tried within weeks, admitting it was up to an independent special tribunal to decide when he appears in court.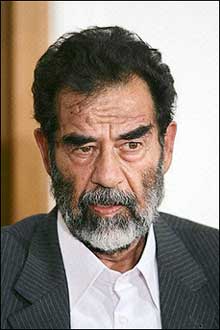 Iraq said it would bring only 12 charges of crimes against humanity against Saddam Hussein (pictured) although there were more than 500 possible cases against the ousted dictator. [AFP/file]

Suicide bombers struck across Iraq, with blasts near the northern city of Kirkuk killing at least 19 people and wounding dozens, the latest in a series of suicide attacks that have killed hundreds since late April. A mortar attack west of Baghdad killed three more Iraqis, the U.S. military said.

Iraq's president and the prime minister's spokesman had said in the last week that Saddam could go on trial within two months, popular announcements apparently designed to show Iraqis that progress was being made in bringing him to justice.

But the Special Tribunal, set up in late 2003 to try senior members of the former regime, issued a statement saying no date had been set, and the prime minister's spokesman conceded on Tuesday that any decision was up to the tribunal.

"A fixed date has not been presented," Laith Kubba, spokesman for Prime Minister Ibrahim Jaafari, told reporters.

"(The Special Tribunal) assured me that they have a media official and they wish that information is given by them directly. I refer you to the spokesman for the tribunal."

A tribunal spokesman also denied a decision had been made to focus on just a dozen of the crimes of which Saddam is accused, as Kubba said on Monday, to bring him to trial more quickly.

Since Saddam was taken into custody in December 2003, Iraqi authorities have been under growing pressure to bring him and his senior lieutenants to justice.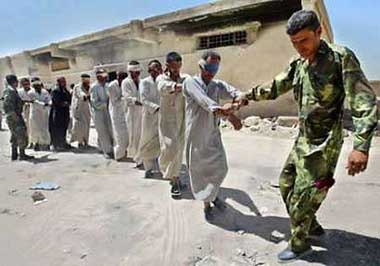 An Iraqi National guard soldier leads arrested suspects during Operation Lightning in Baghdad June 7, 2005. Car bombers struck in Baghdad and northern Iraq on Tuesday, killing at least 19 people and wounding more than 40, the latest attacks in a surge of suicide bombings that have killed hundreds since late April. [Reuters]

The government hopes any conviction -- including the possibility of the death penalty -- will dent the insurgency by convincing former regime loyalists that Saddam's days are over, so it is pushing for the earliest possible trial.

A high-profile conviction could also help build popular support for the government before a mid-December election.

"Many people lost fathers and sons and want to know where the justice is," Kubba said on Tuesday. "There's popular pressure on us."

In the past, tribunal officials have indicated that Saddam's deputies will be brought to trial first and Saddam himself may not appear in court until 2006.

DEADLY BOMBINGS

At least five car bombs exploded across Iraq on Tuesday.

Four attacks were in or near the northern town of Hawija, close to the strategic oil city of Kirkuk. One suicide bomber blew up his car near a U.S. base, another beside an Iraqi army checkpoint and a third close to a market, police said.

A fourth car bomb struck a checkpoint in the town of Abasi, near Hawija. In total, 19 people were killed and 38 wounded in the four attacks, Major-General Anwar Mohammed Amin, the Iraqi army commander in Kirkuk, told Reuters.

In Baghdad, a car bomb detonated beside a police patrol, wounding 28 people, including two policemen, police said.

Near Falluja, west of Baghdad, police found the body of a man shot in the head. A message scrawled on his clothing said that he had been killed for working with the Americans.

Insurgents also hit a U.S. base between Baghdad and Falluja with mortars, killing three Iraqi contractors and wounding 13, the U.S. military said in a statement.

Since April 28, when Iraq's new Shi'ite-led cabinet was announced, insurgents have sharply escalated attacks, killing more than 800 Iraqis and 88 U.S. troops. May was the deadliest month for U.S. forces since January.

The violence has worsened sectarian tension in Iraq. A series of assassinations of clerics, and mass killings of Iraqis whose bodies were then dumped, has led some Sunni groups to accuse a militia linked to one of the main Shi'ite parties of involvement in the kidnap and killing of Sunni Arabs.

The militia, the Badr organization, has denied involvement and political leaders have called on Iraqis to avoid being drawn into sectarian strife.

In the latest killing of a cleric, Salam Abdul-Karim, a Sunni, was found dead in the mainly Shi'ite city of Basra on Monday, relatives said. They said he had been abducted the previous day by men in Iraqi police uniforms.

Police denied any involvement in the killing. The death followed that of a Shi'ite cleric in Basra last week.

In an effort to defuse sectarian tension and undermine the Sunni Arab-dominated insurgency, the Shi'ite and Kurdish blocs that emerged strongest from Jan. 30 polls are trying to involve more Sunni Arabs in the writing of a new constitution, the next key step in Iraq's path toward full democracy.




Today's Top News
Top World News

FM: Rumsfeld's remarks on China's military 'groundless'




Sino-US programme targets HIV/AIDS




Bankers reject US bid on China currency




Meteorologists urged to improve forecasting




42 kg of 'ice' seized in cross-region action




Speaker urges Koizumi to shun shrine