Bankers reject US bid on China currency
(Agencies)
Updated: 2005-06-08 09:17
The Bush administration's effort to increase pressure on China to overhaul its currency regime got less than rave reviews from Federal Reserve Chairman Alan Greenspan and key central bankers from China, Europe and Japan.
Greenspan disputed the contention of U.S. manufacturers that a revaluation of China's yuan would make a significant impact on America's soaring trade imbalances.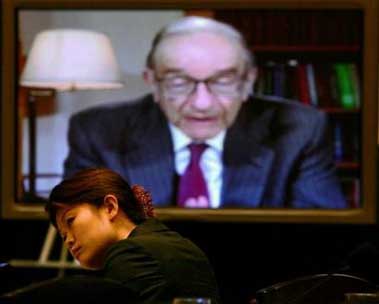 An attendant to the 2005 International Monetary Conference listens to U.S. Federal Reserve Chairman Alan Greenspan speaking via satellite video link from the U.S., to the participants and the Central Bank Panel during their meeting at the Peninsula hotel in Beijing June 7, 2005. [AP]

Zhou Xiaochuan, the head of China's central bank, rejected the administration's contention that China was ready to move immediately to a more flexible currency. And Jean-Claude Trichet, the head of the European Central Bank, and Toshiro Moto, deputy governor of the Bank of Japan, both said the timing of any move should be left up to China.

The four men made their comments while appearing on a panel of central bank governors at a monetary conference being held in Beijing. Greenspan participated Tuesday morning Beijing time by satellite from Washington.

The administration did receive support on Tuesday from a key lawmaker on trade issues. House Ways and Means Committee Chairman Bill Thomas told the U.S. Chamber of Commerce that he believed legislative pressure will probably be needed to get China to drop its tight peg to the dollar.

"We have to let China know, probably from a legislative position, that the administration's recent exhortations are supported by the Congress," Thomas said. He did not spell out what legislation he would support. Legislation has been introduced in both the House and Senate to impose across-the-board 27.5 percent tariffs on Chinese products if China does not act.

At the White House, presidential spokesman Scott McClellan said Bush met with a group of Chinese legislators on Tuesday and the currency issue was discussed.

"China has expressed a commitment to moving forward toward a flexible market-based exchange rate and we continue to urge them to move in that direction," McClellan told reporters.

The Bush administration in recent weeks has intensified the pressure on China to stop linking the yuan at a fixed rate to the dollar, a practice that American manufacturers say has undervalued the yuan and given China a huge trade advantage.

Greenspan, however, said in response to an audience question that getting China to stop linking its currency tightly to the U.S. dollar would have little impact on America's trade deficit with China, which hit a record $162 billion last year, the largest imbalance ever recorded with a single country.

"It certainly is not going to be a major impact" on America's trade deficit, Greenspan said, asserting that any sales China loses in the United States would probably be made up by sales from other countries.

But Greenspan did argue it was in China's interest and the interest of the global economy because it would end distortions in China's monetary system and also make China's economy more flexible.

"Allowing revaluation in some form is very much to the advantage of the Chinese and I am certain they will take it on reasonably soon," the Fed chairman said.

Zhou told the conference that there was "too much expectation" about how a change in China's currency practices would impact trade flows and the global economy. He also said that more reforms were needed to prepare for a change, a comment at odds with the Bush administration which in recent months has been insisting that China is ready to make the switch currently.

Trichet said China should decide on the timing of any currency move and that other nations need to do their part to support global growth, including higher savings rates in the United States and less impediments to growth in Europe and Japan.

Revalued China Currency May Impact U.S.

Sometimes you must be careful what you wish for. That may end up being the case with the United States' push to get China to revalue its currency.

Should the yuan become a free-floating currency rather than trade at a fixed exchange rate, it could be a boon to U.S. manufacturers that have struggled to compete with the cheaper goods produced in China today.

But that doesn't take into account some of the unintended economic consequences of a higher-priced yuan ¡ª namely how it could boost U.S. inflationary pressures by raising the price of everything from electronics to T-shirts and cause all kinds of problems for companies like Wal-Mart Stores Inc. that source merchandise and materials from China.

The yuan has been pegged at 8.28 to the U.S. dollar for a decade, and critics charge that fixed rate undervalues the yuan by as much as 40 percent, which in turn is giving China an unfair trade advantage. They point to China's contribution to the record high $617 billion U.S. trade deficit last year, which included a $162 billion imbalance with China alone ¡ª the largest ever with a single country.

The Bush administration has been prodding China to stop linking the yuan to the dollar and instead move to a more flexible currency system. That push intensified in recent months, following a Senate vote in which lawmakers expressed preliminary support for a bill that would impose 27.5 percent across-the-board tariffs on Chinese products if China did not alter its currency policies.

Such tactics have been lauded by groups that want the yuan revalued. The biggest support comes from manufacturers including those in the auto, textile and heavy equipment businesses. They contend China's currency system is hurting U.S. exports by making Chinese goods cheaper in the United States and American products more expensive in China and contributing to job losses at U.S. factories.

A yuan revaluation would also help any company that sells goods into Asia, derives a lot of its revenues from Asia, or has its costs dominated in currencies that would be weaker than the yuan, like the dollar. Among the winners would be luxury goods companies that have their costs based in dollars but collect revenues in more expensive currencies.

But benefits won't be all around ¡ª especially for U.S. consumers and many businesses.

Federal Reserve Chairman Alan Greenspan pointed out last month that letting the yuan move higher against the dollar would increase prices American shoppers pay for Chinese goods. "The effect will be a rise in domestic price in the United States," he said, in comments made after a speech delivered to the Economic Club of New York.

Similar thoughts came from Wal-Mart senior vice president Charles Holley, who said during an investment conference in late April that the world's largest retailer was looking to "locate alternative sources" if cost increases appear.

"If those costs go up, there is a chance that that may translate into a higher price," he said, according to a transcript provided by Thomson Financial's StreetEvents.

A higher yuan could also boost operating costs at the many companies that use Chinese components to run their factories.

"All those cheap goods that the Chinese are selling us improve our standards of living," said Oak Associates chief economist Edward Yardeni. "The Chinese have helped to put a lid on our inflation rate, contributing to the rise in our inflation-adjusted wages and salaries."

China is also one of the leading buyers of U.S. Treasury securities, which has helped keep U.S. interest rates down. Should the Chinese pull back on that spending, it could lead to higher borrowing costs ¡ª something that could potentially cool the housing market.

It's too soon to know whether China will take any action to revalue the yuan. So far, officials there have been cool to the idea.

As Morgan Stanley's Asia-Pacific economist Andy Xie points out in a recent note to clients, China could be more apt to pay the steep tariffs on goods heading into the United States than agree to a big revaluation.

And since American and other foreign companies generate four-fifths of China's exports to the United States, they would end up bearing the brunt of any tariff imposed. Xie estimates that could costs U.S. businesses $50 billion.

"Their impact on corporate earnings could be so severe that the stock market could fall sharply," he said. "I don't think that the U.S. government would act to allow something like this."

Maybe the only certain thing is that U.S. companies are closely watching this situation, and are already making plans to combat potential troubles ahead.




Today's Top News
Top China News

FM: Rumsfeld's remarks on China's military 'groundless'




Sino-US programme targets HIV/AIDS




Bankers reject US bid on China currency




Meteorologists urged to improve forecasting




42 kg of 'ice' seized in cross-region action




Speaker urges Koizumi to shun shrine