Blair, Bush vow to help poor countries
(Agencies)
Updated: 2005-06-08 09:09
WASHINGTON - US President George W. Bush and British Prime Minister Tony Blair said they were close to completing a proposal for other rich nations to eliminate 100 percent of debt for the world's poorest countries.
Bush also announced after a summit with his close ally that the United States would give an extra 674 million dollars to humanitarian relief efforts in Africa.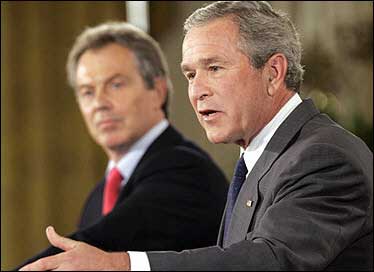 US President George W. Bush (R) and British Prime Minister Tony Blair said June 7, 2005 they were close to completing a proposal for other rich nations to eliminate 100 percent of debt for the world's poorest countries. [AFP]

At the end of a lightning visit to Washington by Blair to discuss next month's Group of Eight summit in Gleneagles, Scotland, the pair were positive about moves to help nations, especially in Africa, escape poverty.

During the White House discussions, Bush and Blair "agreed that highly-indebted developing countries that are on the path to reform should not be burdened by mountains of debt," the US leader told a joint press conference.

"Our countries are developing a proposal for the G8 that will eliminate 100 percent of that debt," he said, adding that any deal would "preserve the financial integrity of the World Bank and the African Development Bank".

Blair, who has pledged to make Africa and climate change the twin focuses of the G8 meeting he is hosting from July 6-8, also expressed confidence.

"I am hopeful, after the discussions we have had, that we will get there," Blair aid of the debt agreement.

In a separate television interview, broadcast later, Blair said the two countries were already getting down to the "technical details" of how to cancel the debt.

"If so, how is it funded, what are the terms on which it is done, and so on," he told PBS Television, saying London and Washington were "a significant way down the line" towards a debt deal.

"I don't want to put words in the (US) administration's mouth, but I think there is a willingness to deal with these issues," he added.

Bush confirmed a White House announcement that the United States would offer another 674 million dollars for humanitarian aid in Africa. The US administration has already allotted 1.4 billion dollars to Africa this year.

"America will continue to lead the world to meet our duty in helping the world's most vulnerable people," Bush said.

Both leaders emphasised that any international moves to boost aid or provide debt relief must be backed by initiatives in Africa to improve governance, reduce corruption and properly target the extra money.

"I see we have got a fantastic opportunity, assuming the countries in Africa make the right decisions," Bush said.

Blair said the debt plan in particular was "not a something-for-nothing deal".

However, for all the warm words between the close allies, and the expressions of intent, there was no new concrete measure on how to tackle African poverty beyond the additional US cash.

There was even less to show on tackling climate change, Blair's other stated ambition for the Gleneagles summit.

"I've always said it's a serious long long-term issue that needs to be dealt with, and my administration isn't waiting around to deal with the issue, Bush said.

However, he offered no new commitments, merely reiterating the United States's belief the issue could be tackled through new energy technologies exported around the world.

Ahead of Blair's trip -- he was to fly home on Tuesday evening -- pundits saw it as a chance by the British leader to cash in some of the political capital he accrued in Washington for backing the US-led war in Iraq.

Blair was returned for a third straight term in power a month ago, but the election saw his parliamentary majority slashed, something many pundits put down to the effect of Iraq.

But it was always unclear what concessions on Africa and climate change Bush might be willing to offer, even to such a close ally. The United States has refused to back a British proposal to raise aid money on the international financial markets.

During his television interview, Blair said it was not a worry that the United States was still some way from the European Union target of giving 0.7 percent of gross domestic product ( GDP) to international aid.

"I don't think we should get fixated on the percentage of GDP every year that goes to aid," he said.




Today's Top News
Top World News

FM: Rumsfeld's remarks on China's military 'groundless'




Sino-US programme targets HIV/AIDS




Meteorologists urged to improve forecasting




42 kg of 'ice' seized in cross-region action




Speaker urges Koizumi to shun shrine




N. Korea nuclear talks may resume in weeks