Mideast truce endangered as 6 killed
(Agencies)
Updated: 2005-06-08 08:46
QABATIYA, West Bank - Five Palestinians and a Chinese laborer were killed in the deadliest day of violence to strike the occupied territories since militant groups began observing a fragile truce in January.
Three Palestinians, including a militant leader, were shot dead by Israeli troops, while a Chinese and a Palestinian worker were killed in a revenge attack by militants on a settlement in southern Gaza.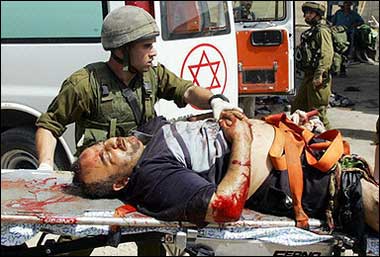 An Israeli soldier evacuates a worker who was injured in an explosion in Ganei Tal, part of the Gush Katif settlement block in the Gaza Strip. The mortar attack was claimed by the Islamic militant group Hamas, the Israeli military said. [AFP]

A second Palestinian worker injured in the settlement attack succumbed to his injuries late Tuesday, taking the death toll to three, Israeli medical sources said late Tuesday.

It was the most lethal day since a Palestinian militant blew himself up in Tel Aviv on February 25, killing five Israelis and threatening an already shaky ceasefire.

As Israel fumed over the upsurge in violence, Palestinian interior minister Nasser Yussuf called on the Palestinian factions to stop all acts of violence, warning of the dangers of destroying the fragile truce which has been in place since January.

"We ask all Palestinian factions to completely abide by the quiet understanding," he said in a statement, warning of "the dangers of destroying this agreement".

Yussuf had been due to meet with Israeli Defence Minister Shaul Mofaz later on Tuesday, but Israel called the talks off without giving a reason, the statement said.

Earlier, Israeli television reported that Yussuf and Mofaz would hold emergency talks on the violence later Tuesday. The defence ministry refused to comment on the issue.

Mraweh Khaled Kamil, head of Islamic Jihad's armed wing in the Jenin area, was killed during an Israeli arrest operation in the northern town of Qabatiya, which also saw a 23-year-old civilian killed. Nine Palestinians and a soldier were also injured during the raid, security sources said.

"The truce is in peril and this killing will not go unpunished. Our patience is running out," said Jihad spokesman Khader Adnan.

Within hours the faction took revenge in the form of an explosion in the Jewish settlement of Ganei Tal, which killed a Chinese and a Palestinian worker. Another five Palestinians were wounded in the blast, with one dying of his injuries late Tuesday.

A Palestinian with both legs blown off screamed in agony in Hebrew as Israeli medics battled to save his life.

Elsewhere, troops in southern Gaza shot dead Salah Imaran, 57, who was trying to climb over the Egyptian border fence.

Tuesday's violence raised to 4,768 the number of people killed during the nearly five-year Palestinian uprising.

Militants also fired a barrage of makeshift Qassam rockets and mortar shells into southern Israel, damaging a house but no one was injured, the army said.

Palestinian prime minister Ahmed Qorei lashed out at Israel, saying the killing of Kamil "shows the policy of targeted killings has resumed", he said, denouncing it as "a dangerous threat to the cool-down and Palestinian efforts to preserve it."

Although Israeli officials slammed the Palestinian leadership for failing to clamp down on militants, the newly-installed army chief sought to calm troubled waters.

"Hamas is trying very hard to undermine our efforts to move towards peace with the Palestinian Authority," said Foreign Minister Silvan Shalom, speaking of "a new dawn in Palestinian terrorism".

But Dan Halutz, who took over as chief of staff last week, said there would be no strong military response -- for the moment.

"We have to weigh everything seriously and look at the long-term picture, not only the short term," he told reporters in the southern town of Sderot.

"At the same time, we also need to weigh the significance of a broader action against the terror organisations ... There is no doubt that at some stage, our patience will run out. We will decide for ourselves when that is."

Meanwhile, Palestinian civil affairs minister Mohamed Dahlan charged that there was no cooperation between the Palestinian Authority and Israel over Israel's forthcoming evacuation of all troops and settlers from Gaza.

"As far as I can see there has been no cooperation, only talk of cooperation," said Dahlan following talks with James Wolfensohn, the Middle East quartet's special envoy for Israel's disengagement project, and US security coordinator General William Ward.




Today's Top News
Top World News

FM: Rumsfeld's remarks on China's military 'groundless'




Sino-US programme targets HIV/AIDS




Meteorologists urged to improve forecasting




42 kg of 'ice' seized in cross-region action




Speaker urges Koizumi to shun shrine




N. Korea nuclear talks may resume in weeks