N. Korea nuclear talks may resume in weeks
(Agencies)
Updated: 2005-06-08 07:53
WASHINGTON - The United States said on Tuesday North Korea said it would return to six-party talks on ending its suspected nuclear weapons programs and China said the negotiations could resume in Beijing within weeks.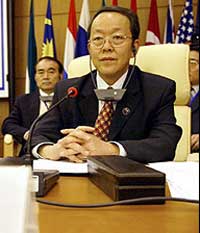 China's permanent representative to the United Nation Wang Guangya attends a UN meeting in this 2004 file photo. Wang said the six-party talks on ending North Korea's nuclear program could resume in Beijing within weeks. [AFP]

"I think it will be pretty soon, in the next few weeks," Chinese ambassador to the United Nations Wang Guangya told reporters. "I understand that it will be Beijing."

State Department spokesman Sean McCormack said, "The North Koreans said they would return to the six-party process but did not give us a time certain when they would."

After testifying on Capitol Hill later, the assistant secretary of State for East Asia and the Pacific, Christopher Hill, said: "They did not give us a date. Until we get a date and get everyone sitting at the table, we do not have a process."

The United States and China have been struggling to lure North Korea back to the talks, which last took place in June 2004 and which also include South Korea, Japan and Russia.

US President Bush is scheduled to meet South Korean President Roh Moo-hyun at the White House on Friday.

The signal that North Korea intended to return apparently came during a meeting in New York on Monday. Before it, there had been a flurry of reports that it was possible and officials in Asia expressed cautious optimism.

Chinese Foreign Ministry spokesman Liu Jianchao said, "From every aspect, this is a positive meeting ... but as to the resolution ... we have no specific information."

Japan thought the meeting indicated progress, but the government's top spokesman said he was unsure whether it would lead to a resumption of talks.

"Since talks and contacts are being held in such a manner, this is a step forward," Japanese Chief Cabinet Secretary Hiroyuki Hosoda said.

McCormack described the New York contacts as "useful" and suggested North Korea had not set explicit conditions for resuming the six-party talks.

"It's always useful to exchange information," McCormack said. "The issue of conditions I don't think was mentioned."

He added: "The important thing is that the North Koreans commit to a time to return to the six-party talks and they engage in a constructive manner."

POSSIBLE SANCTIONS?

At the meeting, the North Korean officials reiterated that Pyongyang supported a denuclearized Korean Peninsula and that the issue could be discussed at the six-party talks, said a State Department official who asked not to be named.

But typically they then went on to list familiar grievances they also wanted discussed such as the United States providing security assurances and dropping what North Korea considers its hostile policy.

U.S. officials have said they may take the North Korean nuclear issue to the U.N. Security Council, which could impose sanctions, if Pyongyang refuses to return to the talks.

A senior U.S. defense official said on Sunday a decision was likely within weeks, but Defense Secretary Donald Rumsfeld played down the possibility of a quick decision.

U.S. chances of punishing North Korea with economic or political sanctions likely would be minimal, since China, which opposes sanctions generally, could veto a U.S. proposal. Pyongyang has said sanctions would be tantamount to a declaration of war.

The Bush administration tried to raise the North Korea nuclear issue in the Security Council in April 2003, but China and Russia objected to Washington's proposal that the council adopt a statement condemning Pyongyang for reviving its nuclear program.





Today's Top News
Top World News

FM: Rumsfeld's remarks on China's military 'groundless'




Sino-US programme targets HIV/AIDS




Bankers reject US bid on China currency




Meteorologists urged to improve forecasting




42 kg of 'ice' seized in cross-region action




Speaker urges Koizumi to shun shrine